Although Samsung Galaxy S10 is packed with the tons of biometric security features, but sometimes, you need some extra security for your private data like photos, videos, and gallery etc. That is where the app locks work.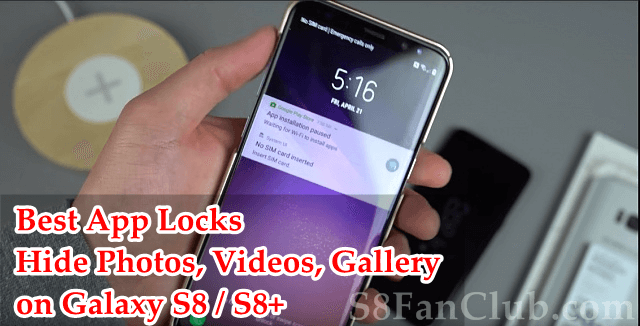 The Google Play Store is equipped with tons of such apps that provide an extra layer to your private data, but among them, some are worth getting on your Samsung Galaxy S10. We also had covered Best Android Lock Apps With Fingerprint Protection. Wondering which one? Check out the list below:
Top 5 Best Lock Apps for Galaxy S10 To Hide / Lock Photos, Videos & Gallery
1: Applock Android App for Galaxy S10
Definitely a pro, the Applock did not come as a surprise on the list. The app can do basics like locking your every app on the phone including your gallery, videos, photos etc. Moreover, it can do some additional jobs like uninstall protection, fingerprint password and can even lock the stuff like incoming calls or Bluetooth etc. All these features come absolutely free.
2: App Locker Android App for Galaxy S10
This app is simply the best that works pretty well in locking up your specifics including your personal photos, videos, gallery etc. The app supports pattern unlocking along with the fingerprint unlocking as well. It also offers the amazing UI with perfect functioning making it worth a shot.
3: Norton App Lock Android App for Galaxy S10
With the excellent rating on Play Store and the amazing features, Norton App Lock is next on the list. Alongside the apps, this app can lock the photos and videos as well, providing the fool-proof security to your phone. Besides, the app features a function that takes a photo of the intruder trying to access the phone.
4: Perfect App Lock Android App for Galaxy S10
Perfect app lock is another most powerful app locking application of the list that is equipped with tons of features. With the support for basics, this app also offers the features like locking up the Wi-Fi, Bluetooth, and other toggles. The app is clever than any other apps on the store by showing the error with the app instead of locking them up to confuse intruders. There is free and paid versions of the app is available for you to discover its alluring features.
5: Smart AppLock Android App for Galaxy S10
Last but certainly not the least, Smart AppLock is another decent yet functional option to secure your apps and personal media. The app disguises itself as a lock screen to trick people. Moreover, it features the auto-start feature upon rebooting. The app is completely free and is definitely smarter than others on the list.
Try these amazing app locks and be at peace!