The Samsung Galaxy S7 has been presented at MWC in Barcelona. Samsung's latest handset has retained much of the Galaxy S6 design while introducing a handful of positive changes that combine to give a great user experience – find out more in our preliminary Samsung Galaxy S7 review.
Good
✓

Ergonomic design

✓

Water and dust resistance

✓

MicroSD card support

✓

Exceptional camera

✓

Battery life seems good
Bad
✕

TouchWiz has barely improved
Samsung Galaxy S7 release date and price
The Galaxy S7 release date is March 11, the same time as the new Galaxy S7 Edge. However, if you pre-order before March 5, Samsung promises to deliver the goods by March 8.
Additionally, if you pre-order, Samsung will reward you with a free Samsung Gear VR headset and a VR games bundle worth an estimated US$150. This offer is available to customers in the US and Europe and went live today, February 23.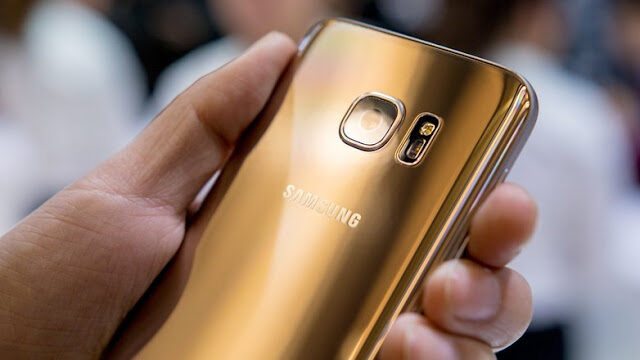 Three carriers have put the pre-order retail prices of the Samsung Galaxy S7 on their websites. AT&T prices the device at US$694.99, while T-Mobile is offering it at US$669.99 with a free year of Netflix.
Sprint's pricing comes in the lowest, at US$649.99. Verizon was the last to offer pre-ordering and puts the retail price at US$672. All carrier pricing could vary with plans and locations.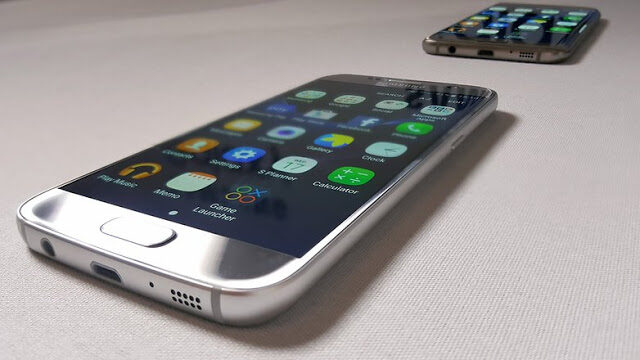 The device will be available in 32 GB and 64 GB versions, both expandable via microSD up to 200 GB. However, a report from SamMobile claims that Samsung confirmed the US market will only be getting the 32 GB model of the S7. This could also be the case for certain markets in Europe.
The device will be available in gold, white, black and silver color, though their availability will vary from country to country.
Samsung Galaxy S7 design and build quality
The Galaxy S7 design shows little change from its predecessor, the Galaxy S6. It retains the 5.1-inch screen, aluminum sides and Gorilla Glass 4-coating on the face and rear.
The phone I tested was the silver variant. Its metallic finish under the glass back looked quite spectacular, shimmering with gold and silver tones under the conference center lights, and feels more luxurious than the S6.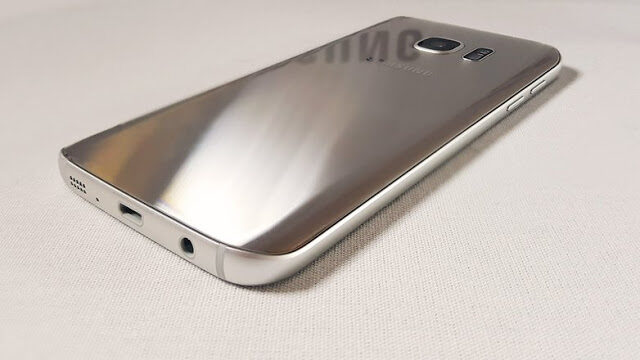 There have been some subtle improvements to the Galaxy S7 design. The back edges are curved toward the frame, in a similar style to the Galaxy Note 5, and the corners are also curved. This combination improves grip and makes the S7 feel smooth and comfortable to hold.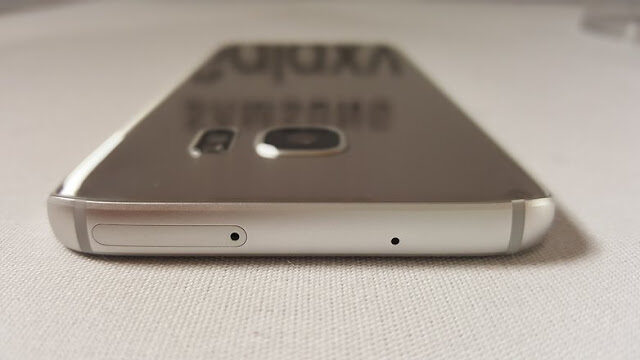 A notable change can be spotted on the rear of the phone; the S7 camera sensor now only protrudes only by 0.46 mm, significantly less than it did on the Galaxy S6. The result is that the smartphone can now lie almost completely flat on a surface and has a far neater appearance.
On the front of the device are proximity sensors, a front-facing camera, call speaker, and the home button/fingerprint scanner. Samsung didn't suggest that the fingerprint sensor would offer any out-of-the-ordinary features, though.
 The S7's metallic finish looked quite spectacular, shimmering with gold and silver tones
On the sides are three buttons: a pair of volume controls on the left and the power button the right. At the top, there's a slot for a nano SIM card and also a microSD card. It appears that Samsung has listened to its core fans and brought back expandable storage.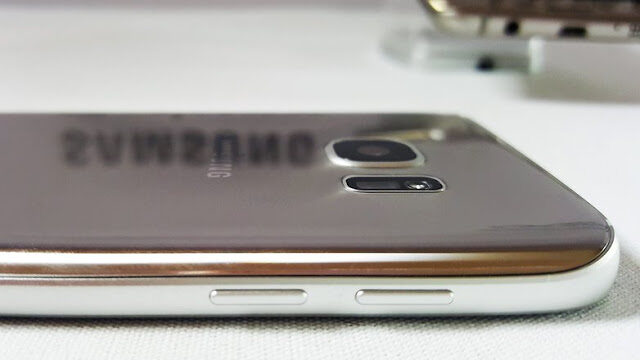 The bottom of the phone is where you'll find a speaker, microUSB port (Samsung is not yet up to speed with USB Type-C) and a mini jack for headphones, the same setup as the Galaxy S6.
In addition, the Galaxy S7 is waterproof IP68 certified, which is one of the most obvious ways in which it differs from its predecessor.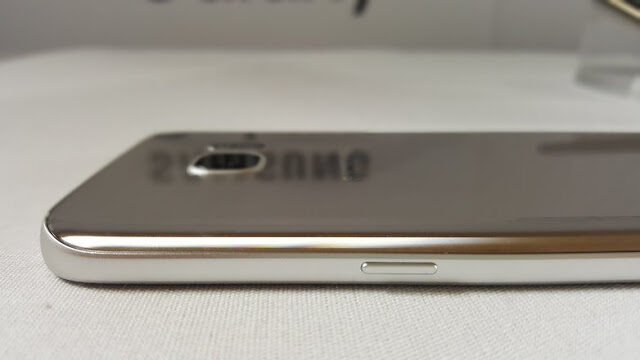 The Galaxy S7 is a little thicker than the S6, but the difference is negligible, and the upshot is that the S7 can house a larger battery (more on that later).
The changes might be subtle, but the Galaxy S7 design has been improved in all the right places and the result is a phone that feels fresh, elegant and simple, something that few manufacturers can achieve. If you thought the design of the S6 was unbeatable, it's time to think again.
Samsung Galaxy S7 display
The Galaxy S7 display is a 5.1-inch QHD unit with QHD resolution (2,560 x 1440 pixels). It's a real beast – easily one of the brightest screens in the Android world, and eye-wateringly so on the highest setting.
The Galaxy S7 also provides great color representation, with natural whites and deep blacks. Some dislike the high levels of color saturation in Samsung's AMOLED displays because they create a 'hyper-real' image, but that comes down to personal preference. (I'm a fan, but I also live in Berlin, where color is something of a precious commodity.)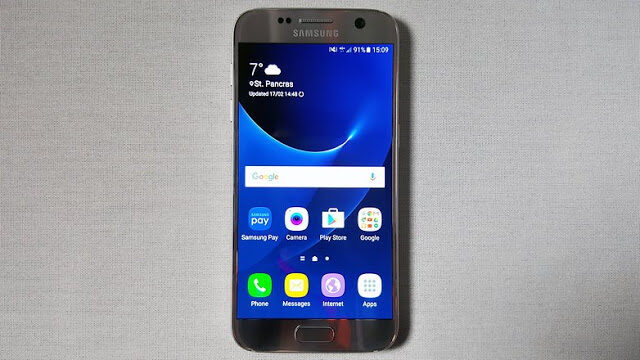 Neither the Galaxy S7 nor the Galaxy S7 Edge introduced a 3D Touch or Force Touch-like display technology, as had long been rumored, but that's probably for the best. The first implementations of such technologies usually serve more as tech demos than must-have features.
We will have to wait for an extensive analysis to see how the screen holds up in outdoor light and when viewing different types of media, but at the moment, I can assure you that the screen is at least as good as the ones on the Galaxy S6 Edge+ or Galaxy Note 5.
Samsung Galaxy S7 special features
The Galaxy S7 brings some interesting extra features and it seems Samsung has left unnecessary 'innovations' at the door and instead focused on what's genuinely useful.
Always ON display
Like LG, Samsung has integrated an Always On display into its latest flagship smartphone. This means that part of the display is always active and can display your choice of calendar, clock, notifications or other information.
This function should have a minimal impact on the battery, because only a small number of pixels are powered to create the effect (it's similar to the principle of why black wallpaper can be used to improve battery life on OLED displays).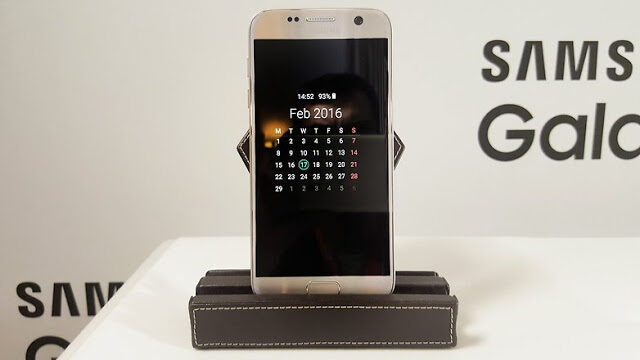 IP68 certification (dust- and water-resistance)
The Galaxy S7 was rumored to arrive with an IP67 rating, but Samsung has gone all out and given it IP68 dust and water resistance.
This means that the S7 can be immersed in up to 1 m of fresh water for 30 minutes. Though we didn't get to test this at the event, it should, in theory, bring the Galaxy S7 up to the same level of water-resistance as the Xperia Z5 range, which provides something of a standard.
Game Launcher and Vulkan
The Galaxy S7 Game Launcher center is a menu for your mobile games. It provides more ways for you to interact with these games, such as allowing you to take screenshots or record videos.
Game Launcher can even help you conserve energy while gaming, by reducing background processing. Notifications can also be disabled from this area.
Additionally, the Galaxy S7 and S7 Edge will be the first smartphones that are compatible with 3D rendering API Vulkan, which aims to give app developers more control over how graphics are processed on smartphones (and ultimately to improve the gaming experience).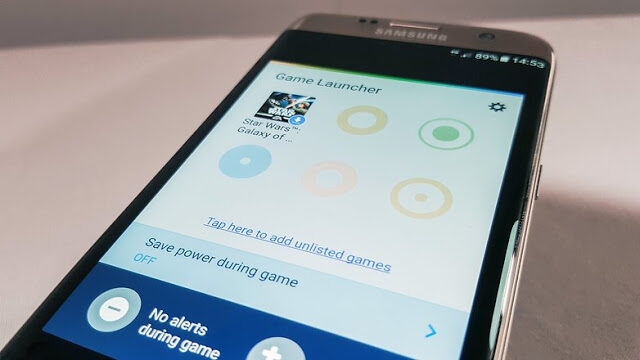 Samsung Pay
Samsung Pay can now be accessed on the Galaxy S7 by dragging your finger up from a homescreen. The service will be launched in the UK and Spain soon after its release, but no other EU countries in the EU will receive it for the time being.
Read more about Samsung Pay in our Samsung Pay vs Android Pay vs Apple Pay comparison.
Fingerprint scanner, heart-rate monitor, S Health
The Samsung Galaxy S7 has a fingerprint scanner and NFC capabilities, as well as a heart-rate monitor and the S-Health fitness app.
Samsung Galaxy S7 software
The Galaxy S7 comes with Android 6.0.1 Marshmallow complete with TouchWiz UI, which is almost identical to the S6 Edge+ and Galaxy Note 5 software. We will investigate it in depth in our final Galaxy S7 review.
There appears to be around 25 preinstalled applications, but I would have installed most of them anyway. There aren't dozens of bloatware apps like on Samsung devices from a few years ago.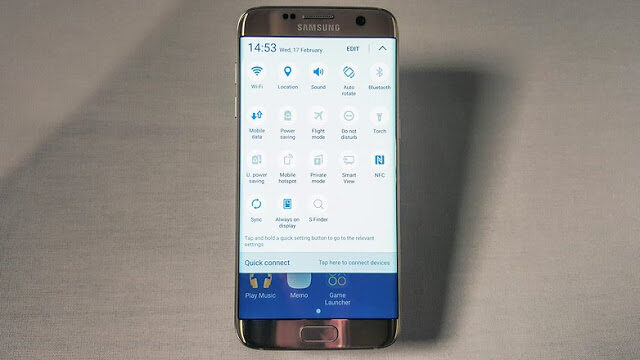 Samsung Galaxy S7 performance
The Galaxy S7 we tested came with the Exynos 8890 chipset. This is an octa-core CPU with four cores clocked at 2.3 GHz and four at 1.6 GHz. It's backed up with a hefty 4 GB of RAM and means the Galaxy S7 should easily be able to handle any mobile game or multitasking you could throw at it.
At our hands-on event, a Samsung rep told us that the S7 has a 30 percent more powerful CPU and 64 percent more powerful GPU than the S6, but we didn't get to conduct any benchmark tests in our time with the phone.
The Galaxy S7 we tested came with the Exynos 8890 chipset backed up by a hefty 4 GB of RAM
Despite this, the S7 performance was super smooth. Based on what we've seen, it could be the most powerful smartphone ever seen – something that's even more impressive given how small the phone is.
Samsung Galaxy S7 audio
The Galaxy S7 has the same speaker technology as the S6 Edge+, but we haven't been able to put it through its paces with Rihanna's new album just yet. Audio quality will be examined in depth in the final Galaxy S7 review.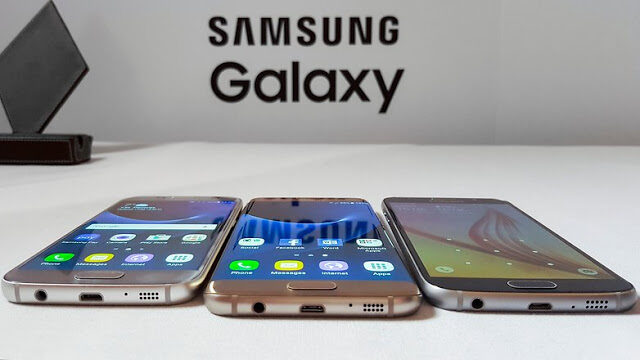 Samsung Galaxy S7 camera
The Samsung Galaxy S7 has a lot to live up to in the camera stakes – the camera was one of the best features of the Galaxy S6 and one of the most impressive Android phone cameras we've ever seen. Luckily, the latest Galaxy camera promises to be every bit as strong.
Samsung has reduced the megapixel count of its sensor from 16 MP to 12 MP, but don't worry; the new sensor has an f / 1.7 aperture lens. This means that what it loses in distance detail, it should make up for in low-light performance. In addition, the S7 has optical image stabilization and dual-pixel technology, as found in reflex cameras.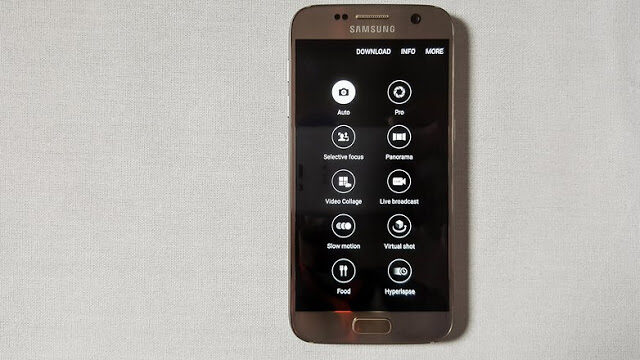 This technology means that the Galaxy S7 can focus up to four times faster than the S6 in low-light conditions and twice as fast in daylight.
During the press briefing, we were shown how a Galaxy S6 and a Galaxy S7 focuses on an image in the dark. The Galaxy S6 took microseconds – the Galaxy S7 focused instantly. It was impressive, and if Samsung is to be believed, the S7 camera can capture 56 percent more light than the S6 too.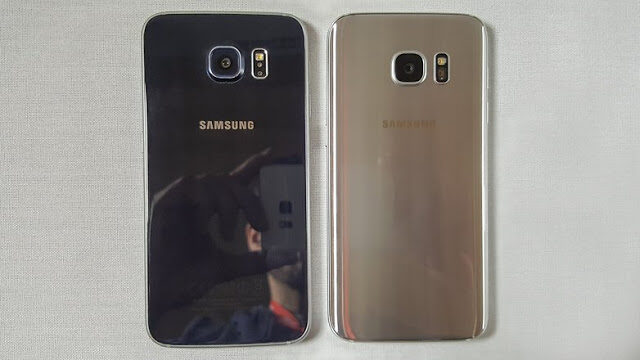 The front camera also has an f/1.7 aperture lens and 5 MP resolution.
The S7 camera interface is similar to the S6's, and affords 4K video shooting, fast motion, slow motion and more.
I'm looking forward to fully testing the S7 camera tech, but if my suspicions are correct, it could be up there with the best Android cameras to date.
Samsung Galaxy S7 battery
The Galaxy S7 battery is bigger than the one in the S6; 3,000 mAh compared with 2,550 mAh. Samsung Spain Chief Technology Officer Nacho Nieto told us that this battery capacity increase was made possible by a new molding technology that creates curved batteries to optimize available space.
The Galaxy S7 can charge from 0 to 100 percent in 90 minutes when connected to a power outlet, and takes 120 minutes with a wireless charger.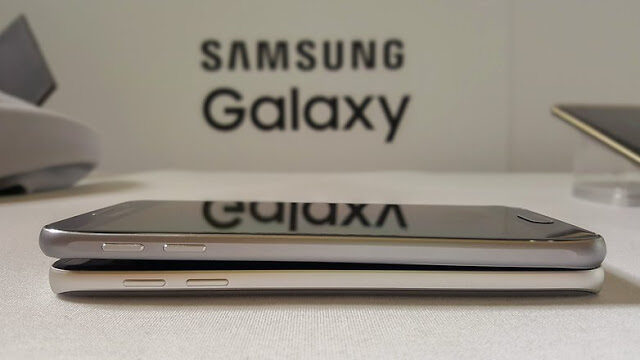 The 3,000 mAh battery of the Galaxy S7, combined with optimizations afforded by Android Marshmallow and Doze and the (presumably) more efficient Exynos 8890 processor could mean the S7 reaches that two-day battery life sweet spot. Stay tuned for our full S7 review to see if that turns out to be the case.
Samsung Galaxy S7 technical specifications
MODEL:
Sorry, not yet available!
DIMENSIONS:
142.4 x 69.6 x 7.9 mm
DISPLAY TECHNOLOGY:
AMOLED
SCREEN:
2560 x 1440 pixels (576 ppi)
FRONT CAMERA:
5 megapixels
REAR CAMERA:
12 megapixels
ANDROID VERSION:
6.0 – Marshmallow
INTERNAL STORAGE:
32 GB
64 GB
REMOVABLE STORAGE:
microSD
CHIPSET:
Samsung Exynos 8890
MAX. CLOCK SPEED:
2.3 GHz
CONNECTIVITY:
HSPA, LTE, NFC, Bluetooth 4.2
Early Verdict
Given how much the S7 owes to the Galaxy S6 in terms of design, I honestly thought it couldn't surprise me. How wrong I was. I have been left in awe of how successfully the Korean manufacturer has combined design and usability: the Galaxy S7 is a smartphone with a soul.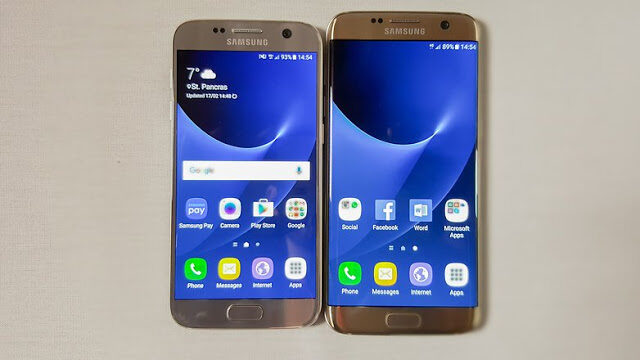 Its camera, design and performance seem like credible upgrades from the previous generation, but Samsung has also improved on aspects that were really lacking by including a larger battery, water resistance and a microSD card slot.
I have been left in awe of how successfully Samsung has combined design and usability: the Galaxy S7 is a smartphone with a soul
Though TouchWiz hasn't evolved in any great detail, the Samsung Galaxy S7 really looks like a world-beating smartphone. The biggest concern for Samsung right now is where it goes from here.
VIA ANDROIDPIT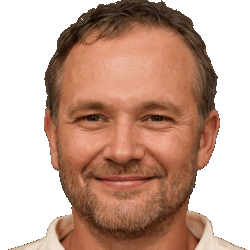 Latest posts by Frank Tyler
(see all)