In the twenty first century, there's a little that we cannot do with our phones. Ranging from controlling the TVs [though we miss this IR blaster feature on our Galaxy S10 so badly 🙁 ] to managing all the data, searching anything to communicating with the one sitting overseas, our smartphones can do all. With all such things, it would not be wrong to say that we do love these offers.
But the worst thing that we have due to our phones is the annoying and unwanted calls. Regarding this fact, in this article, we are going to list five useful Galaxy S10 Call Block Apps that can block such sales and annoying callers on Samsung Galaxy S10 smartphones. Make sure to check out our Best Samsung Galaxy S10 Apps Collection.
In addition to third party apps for blocking calls on your Samsung Galaxy S10, you can also use Samsung's default phone dialer app to block annoying callers.
Steps to Block Calls on Samsung Galaxy S10 Plus Without Any App
Phone > More > Settings > Call Blocking > Block List > Add Phone Number. This is also an option to block anonymous calls.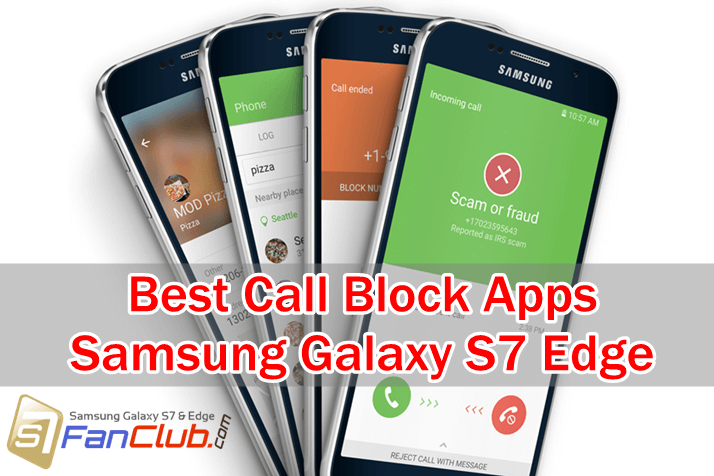 Top 5 Best Galaxy S10 Call Block Apps Collection
1: Google Phone Dialer (Call Block) App for Samsung Galaxy S10 Plus
Google's phone dialer app is the best solution to stop spam messages and calls. You have to install the app and set is as default dialer on your Samsung Galaxy S10 Plus, this will help you identify potential spammers and you will be able to block them in few seconds. Perhaps this app is from Google, the most trustworthy company, so you can install it with peace of mind and make your life peaceful by blocking annoying callers.
2: Calls Blacklist App for Samsung Galaxy S10 Plus
If you are looking to block the annoying calls and filter the messages from the unknown numbers, then this application is best option for you. Calls Blacklist is both a call blocker and a SMS filter to block calls and messages from any unwanted, private and unknown numbers. Besides offering blocking feature, the app records all the history of the blocked numbers and offers schedule function. Additionally, the app is light in weight, don't consume too much memory and is light to your phone's battery as well.
3: Call Blocker Free App for Samsung Galaxy S10 Plus
Next on the list is Call Blocker free that offers some premium features for its users. The app supports extensive variety of languages including English, Chinese, French, Spanish, Portuguese and others, in addition to call and SMS blocking functionality.  Not only this, Call Blocker app also provides the users with the Cloud backup of all their contacts, so that they can access their entire contact list from their device by just downloading the app and logging in. Further, this app is quote easy to use.
4: Safest Call Blocker App for Samsung Galaxy S10 Plus
If you are looking for something simple yet functional in its service, then Safest Call Blocker can be your best choice. This app is next on our list of the best 5 call blocking apps because of the fact that it blocks all the unwanted calls from the numbers that are not in your contact list. You can also block up to 800 numbers manually. The app is light to your phone and memory and offers the notifications of blocked calls, to keep you unbothered with all those annoying calls.
5: Mr. Number App for Samsung Galaxy S10 Plus
Mr. Number is another worth trying call blocking app, like the other ones on the list. The app offers a reliable database of spam callers, to keep the user unmoved. Moreover, the app works perfectly for the Samsung galaxy S10 and S10 Plus, that not only block phone calls, but also text messages. Further, this app works as a call directory that lets the users find the details of any unknown phone calls and text messages as well. So, this app is still another strong option to consider.
If you are one of the victims of unwanted and annoying calls, then you can use these apps to block them all on your Samsung Galaxy S10 or S10 Plus. Try these and don't forget to let us know which one worked for you the best!