With the start of the year, Samsung fans start to look forward to the addition in the Samsung Galaxy family and yes, its 2018 and Samsung has two new flagships along with the new striking features. So which are the best Samsung Galaxy S9 features?  We have picked up the top 5 best features of the [easyazon_link identifier="B079JXY4TJ" locale="US" tag="noksamsonlgsy-20″]Samsung Galaxy S9 Plus[/easyazon_link] that make will make you buy the latest flagship from the Samsung. Also make sure to have a look at Comparison of Samsung Galaxy S8 Plus vs. Samsung Galaxy S9 Plus.
Top 5 Best New Features of Samsung Galaxy S9 Plus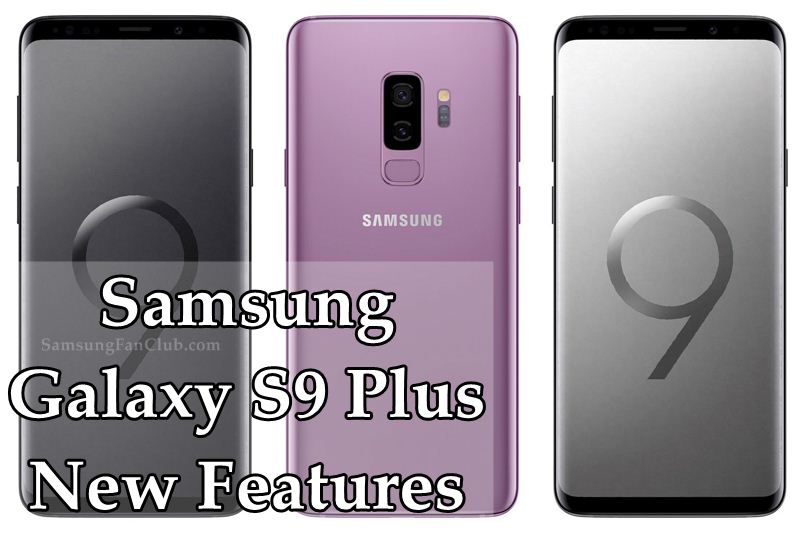 Although the Samsung Galaxy S9 might look like its predecessor at a first glance but don't be fooled by its look. There are tons of features and improvements that have been added to the Samsung Galaxy S9 that you will love. Among those tons of new features, we have rounded up the 5 best ones for you. Check them out.
1: New Placement of the Fingerprint Sensor in Samsung Galaxy S9 Plus
After being disappointed by the Samsung Galaxy S8's fingerprint sensor position, you will be glad to know that the Samsung Galaxy S9 and S9 Plus is now coming with the new placement of the scanner. In this new flagship from the South Korean Giant, you will find the fingerprint sensor in the center of the device on the rear, just beneath the camera. Although you will end up touching your camera accidentally, however, it is less likely than on the last year's device.
2: Dual Camera Lens on Samsung Galaxy S9 Plus
If you are impressed with the Note 8, iPhone 7 Plus, 8 Plus or iPhone X, then you need to have a look at the Samsung Galaxy S9 Plus as it now features the dual camera lens as well. These cameras work similarly to that of the Note 8's. Both the camera lenses feature optical zoom, image stabilization and allow for a depth of field effect using the live focus mode.
3: Super-Slow Motion Video in Samsung Galaxy S9 Plus
Another best feature making Samsung Galaxy S9 worth getting is its super-slow-motion video. Although there are many other phones featuring this feature, however, Samsung Galaxy S9's camera can slow down a video clip to 960 frames per second at 720p resolution for 0.2 seconds to create a 6-second clip. You can share this video clip to any of your social media account as well without any hassle.
4: AR Emoji in Samsung Galaxy S9 Plus
Inspired by the Animoji feature on Apple's iPhone X, the Galaxy S9's AR Emoji feature allows the users to create a 3D scan of your face. With this feature, you can customize your animation's hair color, clothes, skin tone, and accessories as well for the additional fun.
5: Stereo Speakers in Samsung Galaxy S9 Plus
Another area where you can see the struggle of the Samsung in Galaxy S9 is its audio. Tuned by the AKG, the Galaxy S9 sports stereo speakers. These new speakers are 1.4 times louder than the ones in the Galaxy S8, thanks to the Dolby Atmos technology. While watching Atmos-optimized content, the audio seems to physically surround you. It's insanely cool.
So what you think of [easyazon_link identifier="B079JXY4TJ" locale="US" tag="noksamsonlgsy-20″]Samsung Galaxy S9 Plus[/easyazon_link]? Would you upgrade? Leave your comments in the comments section below.