Are you bored of staring at your own picture at home and lock screen since the time you brought your new Samsung Galaxy S7 Edge? Well, if yes, it's a high time to say goodbye to that old pictures of yours and to enjoy some quality live wallpapers that offers great dynamic content on your home screen.
For this, you need to download an app that offers a variety of amazing and cool collection of live wallpapers. Fortunately, Play Store is blessed with tons of them, but, I am going to round up a few best that you will surely love and enjoy on the screen of your Galaxy S7 Edge.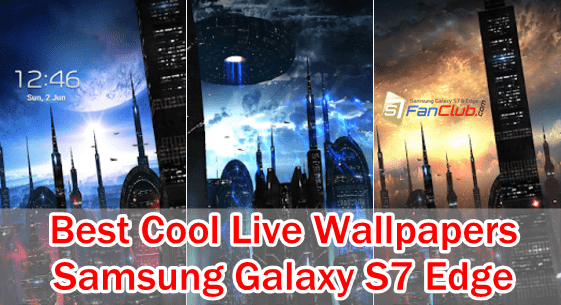 Top 5 Best Galaxy S7 Cool Live Wallpaper Paid Apps Collection
Check out the entire list and don't forget to share your views about these apps in the comments section below!
1: Minima Pro Live Wallpaper App for Samsung Galaxy S7 Edge
If you love those parallax effects moving around, then this app is best for you. The Minima Pro Live Wallpaper application by the Joko Interactive is simple yet, very effective live wallpaper application that offers variety of different parallax effects along with various elements in the background and moving picture effects. This app is so themed with material design that tilts and shift in 3D motion. You can customize the design and colors according to your choice and needs. The randomizer feature offers some amazing and unique theme daily. Also, you can create your own custom live wallpapers with your buddies online, using this amazing application.
2: Space Colony App for Samsung Galaxy S7 Edge
Your Samsung Galaxy S7 would be incomplete without these Galaxy themed Space Colony Live wallpapers. It is one of the best applications offering city scenes high above from the sky. Various parts of the wallpapers offer the customization options including the colors, lights and camera paths of the buildings. Not only this, swiping the home screens raises or lowers your altitude that offers the moving effect of the buildings.
3: Lantern Festival 3D App for Samsung Galaxy S7 Edge
This app offers the tangled themed Lantern Festival in the 3D nature that is beautifully amazing to watch. As the name implies, all the wallpapers in this application emulates the lantern festival celebrations with the sweeping landscape views including China, Indonesia, Malaysia and Singapore. In the wallpapers, you will see people launching paper lanterns in both water and sky. The app also offers the customization options through which you can change the number of boats in the water, time of the day and number of lanterns being launched. What's more beautiful than enjoying a live lantern festival by sitting at your home?
4: Sun Rise Pro Live Wallpaper App for Samsung Galaxy S7 Edge
Nothing's more beautiful than watching a sun rising especially when, you are living in the places like Antarctica, Canada, USA etc. If you miss the scene of rising sun, you don't need to panic, as you can watch the live scene of rising sun on your phone when you wake up, with the chirping sounds of birds and rainbow smiling. This Sun Rising Live Wallpaper is the thing MUST have on your phone that is simple to use but very pretty to watch. Its pro version offers variety of extra options including parallax effects, customization offers for birds, bird's sounds and rainbow.
5: Thunderstorm Live Wallpaper App for Samsung Galaxy S7 Edge
Although weather wallpapers have always been in fashion, but this one's something extraordinary. The app comes with the variety of thunder options including the cloudy day with rain and lightning, storm, clouds and extreme lightning. The app offers large customization offers through which users can change the frequency of lightning, storm and much more. Besides this, the app fully supports landscapes and portraits with almost no additional battery drains.