As winter season is on its verge to hit and there is quite a cozy atmosphere surrounding the whole world. With the start of the wintery season all around, a lot of things come to mind including Christmas, Valentines and much more. To celebrate this winter season, you can equip your mobile phones with the Best Snowfall Live Wallpaper Apps For Galaxy S10 Plus, that I am going to round up here.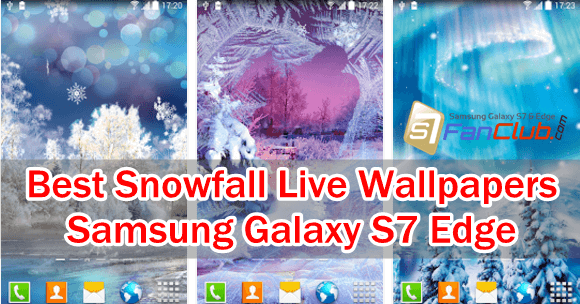 Top 5 Best Galaxy S10 Snowfall Live Wallpaper Apps Collection
1: Snow Live Wallpaper App for Galaxy S10 Plus
Topping the list is the Snow Live Wallpaper by the Live Wallpapers HD, that can help you to personalize your phone's home screen and lock screen with the gorgeous winter themed wallpapers. The app offers different wallpaper scene with the gorgeous white snow glistening in the sun. You can celebrate the winter season with this amazing wallpaper app that offers:
Amazing 3D snowfall wallpapers for your phone.
Many options to personalize the wallpapers like the snow falling intensity, speed and direction.
It is completely free to enjoy the beautiful snowy season.
2: Snowfall Live Wallpaper for Samsung Galaxy S10 Plus
Next on the list is the masterpiece by BlackBird Wallpapers that offers one of the best Snowfall live wallpapers for your Galaxy S10. The app offers:
Beautifully animated screensaver wallpapers with 2D/3D falling snowflakes.
Live water effects.
Set of HD winter backgrounds.
Fully support horizontal orientation
Real; smooth 3D animations that don't drain the battery of your phone.
3: Snowfall Live Wallpaper App for Samsung Galaxy S10 Plus
Counting next on the list for the best live snowfall wallpaper apps is Snowfall Live Wallpaper app by Kittehface Software. The app developed by these developers offer the great features including:
Gentle snowflake falling overtopping swaying pine trees.
Support for landscape mode
Home screen switching
Supporting horizontal orientation
Tons of settings for colors
Holiday season objects including Christmas lights, time of day tracking, camera speed, Santa sightings, snow appearance and much more.
4: Snowfall Live Wallpaper for Samsung Galaxy S10 Plus
Another app for the same purpose is on the list by the developers called, Wallpapers and Backgrounds Live. This one is brand new application that manages to survive on our list because of its very amazing features including:
Winter wallpapers with white snow glistening in the sun.
Live soothing dance of the delicate snowflakes with various sizes.
Tons of customization options.
Support of cool parallax depth effects.
5: Snowfall Live Wallpaper App for Samsung Galaxy S10 Plus
Last but not the least on the list is the application by Wasabi. The app offers you the amazing way to enjoy the holiday season with the amazing frozen wallpapers through which you can simulate your phone's screen with the falling snow. Not only this, you can also get tons of features including:
Custom photo options
Great live wallpapers with the 3D effects and animations.
Customized options for better experience.