Wallpaper is the easiest and the most interesting thing through which, you can give yourself a break of change, each time, you hold your phone. However, choosing wallpaper for your phone is quite a difficult task, especially when, you are equipped with tons of pictures of yourself and bored staring at each.
If you are looking to give yourself a sense of change with the great and colorful wallpaper, then you might not want to miss our top 5 picks of apps, that can help you to do so. Scroll down to get the Top 5 Best Colorful HD Wallpaper Apps that you can have on your Galaxy S10.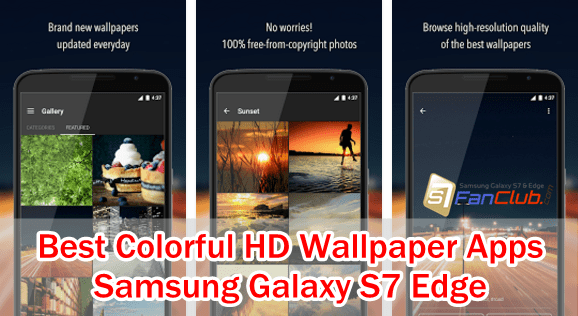 Top 5 Best Galaxy S10 Colorful HD Wallpaper Apps Collection
1: Wallpapers HD Backgrounds App for Samsung Galaxy S10 Plus
Standing first on the list is 7Fon that provides the users with the wide collection of wallpapers, that you are looking for. The app offers the signing in option for the users, that is not at all necessary to use this app. The app provides:
More than 120 thousands HD backgrounds with the resolution 1920 x 1080 or above.
Not only this, the app also provides number of options to the user including setting of wallpaper on lock screen, automatic background change, notifications for the picture of the day, dark and light themes and much more.
Smart picture search and battery optimization are worth mentioning here.
2: Backgrounds HD App for Samsung Galaxy S10 Plus
Background HD Wallpapers is another app on the list that is tailored for the provision of HD wallpapers and backgrounds to the users. The app has fewer features than that of 7Fon, but it is worth trying because of its some appealing features:
Free unique and supreme collection of images perfectly fit for your screen.
It is simple, fast and light on battery.
Simple yet functional user interface and minimized design.
You can set images on multiple destinations, using this app, including lock screen, home screen and profile images on your different IDs.
3: Wallpapers HD – PIXELS App for Samsung Galaxy S10 Plus
Wallpapers HD by PIXELS is another high quality and powerful tool for your phone, if you are looking to have some extreme quality wallpapers and backgrounds. 5he app brings number of features to the users including:
Tons of HD and QHD wallpapers.
20+ wallpaper categories to select from.
New wallpapers and images every day.
Stylish interface with Google's Material Designs.
Option for exploring images with tags or phrases.
4: Wallpapers App for Samsung Galaxy S10 Plus
Wallpapers by Google Inc. is another app to give a try, that features plenty of amazing features for all the users out there. It is the solid choice for all the people who are looking to transform their home screen with something new. The features of this app include:
Increasing collection of HD wallpapers and backgrounds.
You can access images from Google Earth, Google+ and other partners.
Pick your wallpaper from your favorite category
And display it on your home screen or lock screen.
5: Wallrox Wallpapers App for Samsung Galaxy S7 Edge
Another solid choice for wallpapers is Wallrox Wallpapers, that includes:
More than 600 HD wallpapers for the users.
Different categories including Original, Handcrafted and modern wallpapers
There is also Pushbullet integration for the notifications.
What's your Favorite Colorful HD wallpaper app for Samsung Galaxy S10 Plus? Let us know in the comments below.