Chess remained one of the top mind games all across the globe, that ever been developed. Even today, besides the development of number of other game genres, Chess games still managed to retain their charm and addiction among most of the people. however, the only thing that technology changed in chess is its gameplay.
Previously, the chess games were played on the physical chess board, which now replaced by the apps. There are number of 3D chess games apps available on the Play Store, among which, I am going to list the best 5 that you can also play on your Samsung Galaxy S10.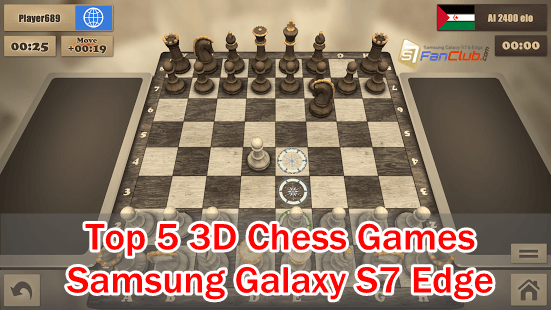 Best 5 Galaxy S10 3D Chess Games Collection
1: DroidFish Chess HD Game for Samsung Galaxy S10 Plus
DroidFish Chess is one of the strongest and powerful chess game apps available on the Play Store, as it combines the very strong Stockfish Chess engine coupled with the feature rich user interface. the game lets the player to play the chess game in two player mode with the feature of customization of chess board, in regards to its color themes. The player can also adjust the strength of the game along with the clock feature. All these features are available with a completely free price tag.
2: Chess Master HD Game for Samsung Galaxy S10 Plus 
If you are looking to take your chess skills to next level, then Chess Master is the game app that you need to have on your Galaxy S10. This one is the great app for the chess lovers that supports single + double players mode along with the great graphical interface. moreover, the game also offers the levels with various difficulty modes. It also features hint feature, edit options and lot more to offer you next level chess experience.
3: My Chess 3D HD Game for Samsung Galaxy S10 Plus
Another powerful and attractive 3D chess game is My Chess 3D that I bet you would enjoy. This game is totally free with all its excellent features. the game offers 3 different engines and 16 different levels. there is also an option of play mode with the computer opponent or friend that lets the player to test his chess skills with worldwide challengers. My Chess 3D also offers the undo feature that you can us4 to undo your move, in case of done accidently. Auto-save is also supported in this version of chess game.
4: Real Chess HD Game for Samsung Galaxy S10
With advanced 3D features and graphics, you can now enjoy chess into a new dimension. You can choose to play with the AI or real opponents across the globe with this game. Besides this, the game offers matchmaking feature, AI with over 2400 levels of difficulty, hints feature for beginners and much more. All you need is to download this game free of cost and enjoy the real-time virtual chess set.
5: Chess HD Game for Samsung Galaxy S10
Last but not the least; next app on the list is called Chess that gets the rating of 4.0 stars based on number of user reviews. Just like all other chess games, this game also offers a chess board with two players. The game features amazing graphics and 3D resolution for the Galaxy S10 phones, that can enhance your real-time chess experience.