Thanks to compression, that we can easily and conveniently send a batch of files to our friends and families on a single go. Simply you need to compress your files and documents and you are ready to go. But what if we receive these files on our smartphones? Do we have to wait to reach home to open these compressed files on our PC or desktop?
Of course not! Thanks to the powerful unzipping, zipping and rar archive apps, that helps us to Pack and Unpack ZIP and RAR files on our Samsung Galaxy S7 and Galaxy S7 Edge as well. So, here we come up with the list of the Top 5 Galaxy S7 Zip Files and Galaxy S7 RAR Files for the people who need receive files on the go. You might also be interested to learn about Best File Manager Apps With Root Access for Samsung Galaxy S7 and Galaxy S7 Edge.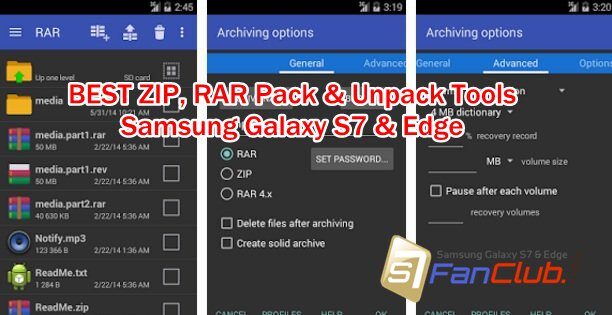 Top 5 Best Galaxy S7 RAR and ZIP Archive Apps For Download
ZArchiver for Samsung Galaxy S7 & Edge
One of the most powerful and amazing tool for Android to open up RAR and ZIP files is ZArchiver. This app has been on the list for number of years and has continued to win hearts of millions of people with its amazing feature packed performance. The app comes with the easy to use interface and easy controls that let you to open plenty of archive file types. For the people who are looking to keep their files confidential, then this app is best option that has the built- in encryption and password protection features that sounds great.
RAR for Samsung Galaxy S7 & Edge
This app is also known as WinRAR for Android that comes from the same developers of WinRAR for PC. The application supports a lot of features including the files like rar, zip, tar, 7z, and many others. the app also offers the array of encryption options along with the amazing commands to repair damaged RAR files. It is one of the powerful apps on the list that you should have on your Galaxy S7.
B1 Archiver for Samsung Galaxy S7 & Edge
Another popular tool that can open up all your archive files is B1 Archiver. This app not only available for unzipping files, but also, it can help to zip up files on your mobile phone. The best feature for this app is that it offers more than 37 file type supports that you want to run in order to get your job done. This app is the best alternate for you with the solid interface and fine features.
AndroZip for Samsung Galaxy S7 & Edge
AndroZip is another best app that unzips and zips various types of files on your smartphone. The app claims to have support for zip, rar, tar and numerous other file formats on the single go. The best feature of this app that makes is distinguished from all other apps on the list is that it consists of the built-in manager to arrange and sort out your files and stuff. It is the simple app for your simple use.
WinZip for Samsung Galaxy S7 & Edge
WinZip is last on the list but surely not the least because it is also much to offer. The app is similar that works great on the computer desktop and has made its way to smartphones as well. The app is your best companion if you have to deal with millions of files every day. The app comes with the unique feature of supporting Dropbox and Google Drive for your convenience.
If I have missed any best app to Pack & Unpack ZIP and RAR files on Samsung Galaxy S7 or Galaxy S7 Edge, do mention in the comments below!