With the technology in its full swing, WhatsApp turned 8, a few days back. WhatsApp is one of the most amazing and popular social media applications today, and that is the reason, it unleashes a cool new feature every year.
Previously, WhatsApp remained in the highlights due to its free Video calling feature, now the story is not different. Now the app has moved away from the text messages and relies much more heavily on sharing photos, videos and GIFs. I am talking about its new Status Update – the ephemeral status update that is being used by Snapchat and Instagram already. So, if you just updated your WhatsApp and need to know everything about it, here's the guide to follow:
How to Add a Status on WhatsApp from Galaxy S7 / Edge?
In order to create an ephemeral status update on your Galaxy S7, you need to make sure that you have a latest version of WhatsApp installed in your phone. Now, you need to follow the following steps to create WhatsApp status:
Open the latest version of WhatsApp.
You will see a sheer new interface, with all new status tab in the middle of chats and calls tabs, on the top of the screen. Tap on the "Status" tab to continue adding your status.
To add a new WhatsApp status, tap on "My Status" button, that will redirect you to the camera.
From camera, you can simply capture a picture or record the video by long pressing the shutter button and then add text or other editing options.
Or, you can simply select a picture from your gallery by navigating it.
Press "Send" to set it as your status.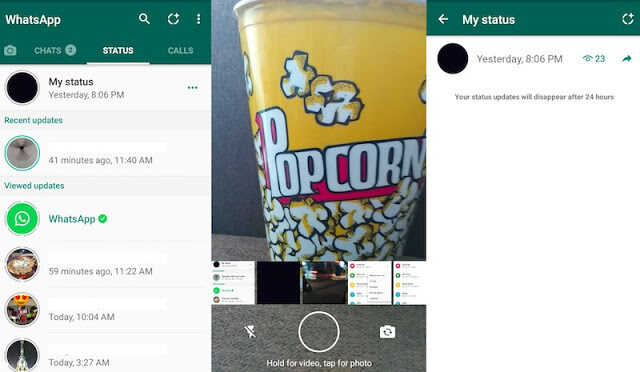 How to Edit Privacy Settings of WhatsApp Status on Galaxy S7 / Edge?
Fortunately, WhatsApp understand the need of hiding the status from some contacts and offer customizable privacy for them. You can set your status updates to only to your specific contacts by setting your privacy setting for each status. Here's how you can edit privacy settings of your status using your Galaxy S7.
Open your WhatsApp and go to the Status tab.
There, you would see a Three Dots Menu icon on the top right corner of the screen.
Tap on that settings option and tap on "Status Privacy" option.
Alternatively, you can also tap on the menu button in the main chats screen and open the "Settings" > "Account" > "Privacy" > "Status"
There, you would see three options saying "My Contacts", "My contacts expect.." and "Only share with".
Tapping "My Contacts" option would allow your status to show your entire contact list.
Tapping on "My Contacts expect…" lets you pick the contacts that you want to exclude.
And tapping on "Only Share With" lets you pick the contacts to which you want to share your status.
That's all you need to understand about WhatsApp new status update. Now you can share your each and every moment with your friends and be in their highlights all the time.
How to Delete WhatsApp Status on Galaxy S7 / Edge?
Made a mistake? Want to delete your status update? Don't worry about it. You can delete these statuses by following the simple steps:
Open the WhatsApp
Go to the status tab and scroll to find the status that you want to delete.
Tap on the eye icon that shows views of your status.
This will show a list with the forward and trash icon.
Tap the trash icon and tap delete to confirm.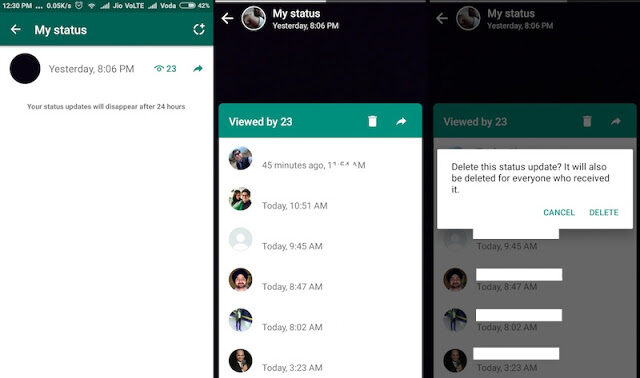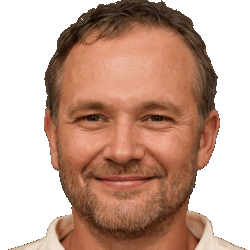 Latest posts by Frank Tyler
(see all)