When it comes to photo editing, only a few apps can be trusted. Among those apps, Adobe Photoshop Express APK for Samsung Galaxy S7 Edge / S8 Plus is the one. From the official Adobe Photoshop CC, the Adobe Photoshop Express APK is now available on the Google Play Store to allow the Android users taste some magnificent photo editing features and powerful optimization tools.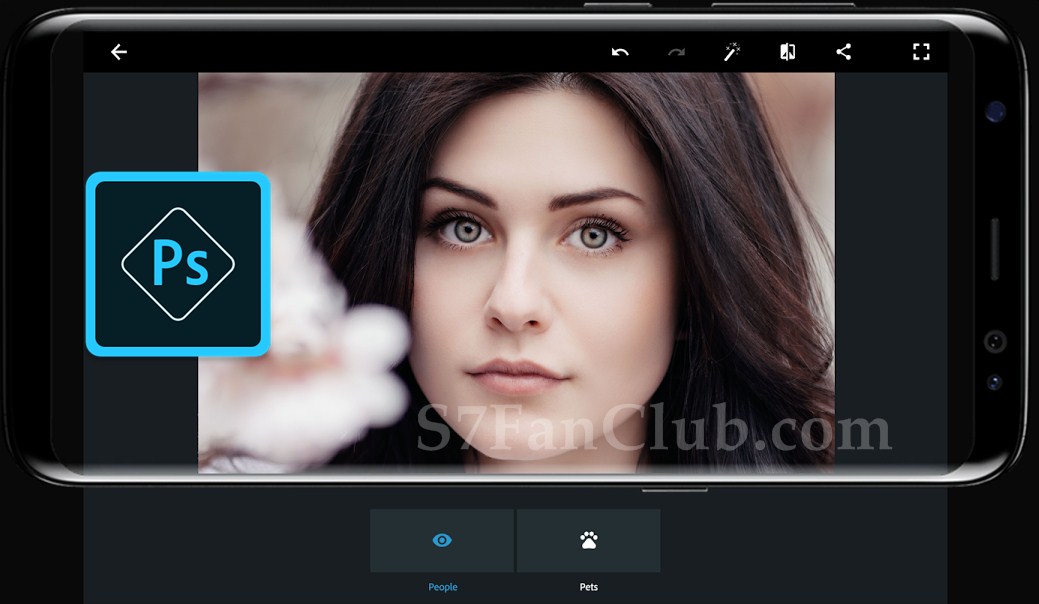 If you are one of those Adobe Photoshop fanatics, you can get this Photoshop Express on your Samsung Galaxy S7 Edge / S8 Plus to get image quality with the ease of use on the go. Make sure to check out Best Samsung Galaxy S7 Edge / S8 Plus Photo Editor Android Apps.
Adobe Photoshop Express – The Best Photo Editor App APK for Samsung Galaxy S7 / S8
Photoshop Express is a free, pared-back version of Adobe Photoshop CC for mobile that delivers the image quality and some quick tweaks to your photos before you share them on your social media.
It is packed with several features that you will love. So before getting it on your Samsung Galaxy S7 Edge / S8 Plus, check out its powerful features below.
1: Easy to Use
Unlike its Desktop software, the Adobe Photoshop Express comes with the easy to use interface allowing the users to make tweaks in his pictures within a matter of seconds. All you need is to just open a photo and begin editing. This makes Photoshop Express popular and convenient among the novice and amateur user as well.
2: Powerful Editing Options
Adobe Photoshop Express, as expected, offers powerful editing options for the image, whether you want it to crop simply or adjust its brightness, auto-correction or to remove red-eye. Not only this, the app offers blemish removal, corrections to the photos, and much more that you don't want to miss.
3: 60+ Filters to Choose From
Besides the editing options, Adobe Photoshop Express offers a number of filters to enhance your picture and to add some boost to them. It is also a great way to pretend that sunset yesterday was a little bit more dramatic, the sea was deeper on your vacation and your date was more romantic.
4: Loads of Customization Options
You can create and save your own looks using the Adobe Photoshop Express. For the convenience of the users, there are loads of customization options including adjusting the intensity of the filters, looks, brightness, highlights, and contrast, so that you can transform your photos according to the way you want.
5: Comprehensive Sharing Options
Photoshop Express offers unlimited comprehensive sharing options including Instagram, Facebook, Twitter, Flickr, Adobe Revel, Snapchat, and text messaging etc. You can also share your photos on Google+ as well, using this app.
6: Do More With Your Photos
You can do more with your photos using Photoshop Express' advanced features including Photoshop Mix, Photoshop Fix, and Lightroom Mobile.
Download Adobe Photoshop Express APK For Samsung Android
Download Link 1: Adobe-Photoshop-Express-Photo-Editor_3.7.393_S7FanClub.com.apk
Download Link 2: Adobe-Photoshop-Express-Photo-Editor_3.7.393_S7FanClub.com.apk
Although the app doesn't offer that much features like Adobe Photoshop CC, still, it offers the decent features to enhance your photos. So, if you want to get Adobe Photoshop Express APK on your Samsung Galaxy S7 Edge / S8, get it from the link below and take your photos to the next level.