Remembering different passwords for different accounts is actually a very difficult task that can be annoying and overwhelming at the same time, if you miss any one of them. But here's a thing that can help you to remember all your passwords without any threat of security. I am talking about the password manager apps that are available in numbers at Play Store because of their importance and popularity.
The ability to keep all the passwords in one spot is highly appealing and functional and that is what password managers are. So, here I am going to list a few best password managers from the Play Store that you can download on your Galaxy S10 to achieve fool proof security without any hassle of remembering passwords.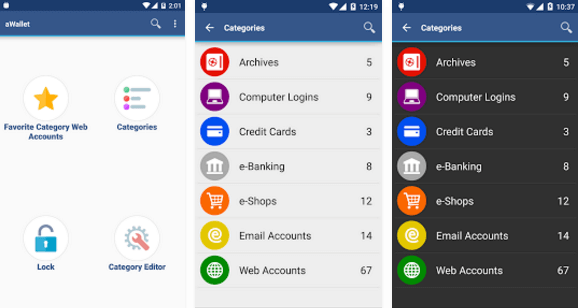 Top 5 Best Password Manager Apps for Galaxy S10
1: aWallet Password Manager For Samsung Galaxy S10 Plus
Standing on the top of the list is aWallet Password Manager that have been offering an extensive range of features to its users including:
Securely storing passwords, credit card information, e- banking credentials and other custom data.
An innate editor allowing the users to edit or change passwords easily
Search bar feature within the fields
Supports back up and restoring feature for the device
Auto lock feature
CSV import
Password generator
Blowfish encryption
You can get all these features for free and pay for the pro version as in-app purchase.
2: Dashlane Free Password Manager For Samsung Galaxy S10 Plus
Following aWallet is Dashlane password manager that is the similar app that you are looking to manage your passwords for different accounts. The app has been around for a while but still managed to get a place in our list due to its distinguished features like:
Strong password generation
Locking and organizing passwords
Secure access to mobile wallet for the secure credit card payments
Cloud security for the backup and restoring option
Vault security feature
Auto-filling passwords on websites and apps
You can grab all these and additional features for free and for per month subscription at $2 only.
3: 1Password – Password Manager For Samsung Galaxy S10 Plus
Standing next on the list is 1Password – Password Manager that is a well -designed password managing app incorporating almost all the features that are needed in a secure application. That simply means:
You can get easy way to store your logins and passwords, other personal and custom information
All the information gets synced with the top –end encryption
Create strong and fool-proof passwords for all your online accounts
Auto-filling user names and passwords for apps and websites
Fingerprint unlocking feature is also available
Simple and interactive user interface
The app also offers great and secure sharing options between families and large teams by downloading it for free or going premium.
4: Enpass Password Manager For Samsung Galaxy S10 Plus
Another powerful password manager option is Enpass password manager that cover almost all the features that we need. These essential key features of enpass Password manager include:
Free full featured desktop version for Mac, Windows and Linux
No subscription charges and sign up required
Auto-filling feature
Fingerprint unlocking feature
Secure sharing
End- to end encryption
Backup/ restore over Wi-Fi
Strong and unique password generator
Categorizes the data into folders and fields
The app is completely free to download and use with the single payment of $9.99 to unlock every feature. So, download it to get all your passwords managed at the first place.
5: Keepass2Android Password Safe For Samsung Galaxy S10 Plus
For those who want an absolute protection to their passwords and apps, Keypass2Android is another option to choose. It is one of the basic password manager options that allow the users to:
Keep their passwords secure and safe at one place
Quick unlock
Access files from the cloud storage
Access integrated soft-keyboard for entering user credentials
Search feature
Browser integration and much more
This is a completely free to use application with lots of more features.