With the start of the New Year, Valentine's Day is on the verge to set your feelings on fire. It is definitely, one of the best and the most important day for all the lovers out there, who are looking to enjoy each and every moment of their lives with their loved ones. This day has special importance in our tradition and culture. When it comes for celebrating the Valentine's Day, there are number of things to start with.
The first thing that you can do to show your love and emotions to your loved one is to download Beautiful Romantic Live Wallpaper apps on your Samsung Galaxy S7 Edge. So, to help you with this, I have rounded some of the useful and worth trying Romantic Live Wallpaper Apps for you.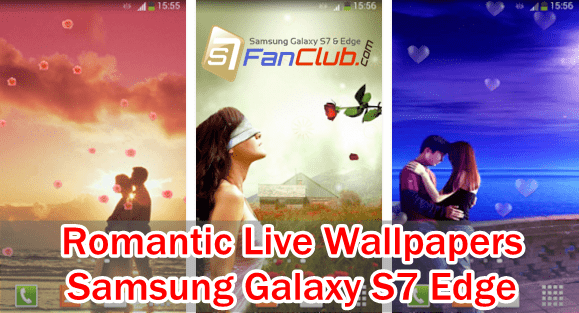 Top 5 Galaxy S7 Beautiful Romantic Live Wallpaper Collection
1: Romance Live Wallpaper For Samsung Galaxy S7 Edge
Fill yourself with the feelings of love and romance this Valentine's Day with this one of the best Romance Live Wallpaper app for Galaxy S7. This application is best suited for the girls those are looking for the perfect HD love backgrounds filled with the lovely pink and red roses and cute hearts floating all over the screen. Not only this, the application offers ten different love themes including pink glitter wallpapers, hearts and roses and many more through which you can choose. Moreover, the app is very light to your battery, making it one best app to try.
2: Romantic Live Wallpaper For Samsung Galaxy S7 Edge
Next on our count to best Live wallpapers to celebrate the Valentine's Day is Romantic Live Wallpaper by Live Wallpapers 3D. The app is on the list for many good reasons that include beautifully animated 3D live wallpapers with real smooth animations, suitable to enhance the atmosphere of calm romantic night with someone special. The app also supports the horizontal orientation for your phone and offers low battery drainage, which you might be looking for.
3: Love Live Wallpaper For Samsung Galaxy S7 Edge
Love Live Wallpaper application is next on the list to make you feel loved every day –but not only on Valentine's Day. The app offers amazingly beautiful HD love wallpapers that will definitely look good on your phone. Besides this, the app features optimized battery usage, interactive feature and smooth and sleek animations, that you will surely love on your phone's screen.
4: Romantic Live Wallpaper For Samsung Galaxy S7 Edge
Make your loved one feel Valentine's Day every day with the next Romantic Live Wallpaper app on the list. This one offers HD wallpapers that give you beautiful images and photo frames in which you can set and preview your romantic images, to give it a customized atmosphere. The app offers some really lovely features for you including 12 different HD love images for your wallpaper, photo frames for your customized photos, beautiful flying fairies on touch and unlock of the screen and much more.
5: Love Live Wallpaper For Samsung Galaxy S7 Edge
Last but not the least best application that you can have on your phone is Love Live Wallpaper, that is perfect background app for everyone, who are experiencing feelings of love. Just like all other apps on the list, Love Live Wallpaper offers 10 free unique romantic love themes with the optimized battery use. So, this one's perfect for you to raise your spirit.
Relax and enter the amazing world of beautiful feeling of love with these Romantic Live Wallpaper Apps on your Samsung Galaxy S7 Edge smartphone.