As a matter of fact, going paperless is the goal of the 21st century and that is what everyone is trying to do. With the introduction of Note 8, we have taken our step towards the digital world while the rest have been provided by the document scanning apps that can help you to go paperless effortlessly. Also make sure to check out Best PDF Reader Scanner Apps & Top 6 Best OCR Apps to Extract Text From Images right from your Samsung Mobile Phones.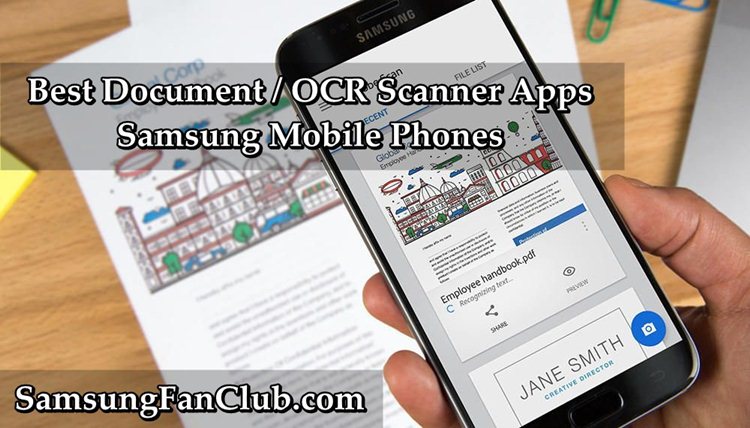 Top 5 Best Document, Image & OCR Scanner For Samsung Galaxy S10, S8, S9
So. If you are looking for such apps that can help you get rid of all those paper stacks, you have come to the right place. We have rounded up a few best document scanning apps for Samsung Mobile Phones including Galaxy S7 Edge, S8 Plus & Note 8. Check them out and go paperless.
1: CamScanner App for Samsung Mobile Phones (S10 / S7 Edge / S8 / S8 Plus / Note 8)
When it comes to document scanning, the first thing that comes to mind is CamScanner. This app is surely a worth getting one because of the fact that it offers tons of useful features that are needed by anyone who wants to go paperless. From scanning papers to converting them into PDF format, the CamScanner is probably the best app that also supports native cloud support, support for Drive and Dropbox as well. Not only this, the app also comes with some editing features that can make your documents readable and more productive.
2: Tiny Scanner App for Samsung Mobile Phones (S10 / S7 Edge / S8 / S8 Plus / Note 8)
Tiny Scanner is another best document scanner app on the Play Store that comes with handy features useful for any person looking to carry his documents in his Samsung Galaxy S7 Edge or S8 Plus. The app is tiny in size, as per its name and scans everything ranging from images to PDFs. The app also features five levels of contrast, quick search and many other amazing features that you will want for your portable documents.
3: Office Lens App for Samsung Mobile Phones (S10 / S7 Edge / S8 / S8 Plus / Note 8)
Office Lens is the official document scanning app from the Microsoft that promotes itself to be useful for every use, from school use to official use. Just like other document scanning apps on the list, this app offers to scan of images to PDF, Word, and PowerPoint and save them to your device and drive. The app is completely free to download and boasts trimming, enhancing, and editing documents effortlessly.
4: Smart Doc Scanner App for Samsung Mobile Phones (S10 / S7 Edge / S8 / S8 Plus / Note 8)
A smarter scanner for your smartphones – Smart Doc Scanner comes with pretty interesting features that allow you to digitize your documents without any hassle. Whether you want to scan your lab test report, receipts, invoices or other documents, the app can do your work, quickly and easily. This app comes with the intuitive user interface and tons of amazing features that you definitely don't want to miss.
5: Mobile Doc Scanner App for Samsung Mobile Phones (S10 / S7 Edge / S8 / S8 Plus / Note 8)
Just like the other apps on the list, MDScan is also a pretty useful tool for the purpose of document scanning. You can scan almost everything using this app, anytime and anywhere. The app comes with the autocorrect feature that detects the borders, corrects distortion and equalize brightness, automatically to make the documents clear and readable. The app is paid one but it is totally worth it.