Converting the videos in different formats can be a tedious and the complex task ever. Thanks to the smartphones that allow us to play and the video converting apps that let us enjoy any kind and any format of the videos without any hassle. Whether it's the MP4 format or AVI file, the WMV document or MOV, these video converting tools have got you covered.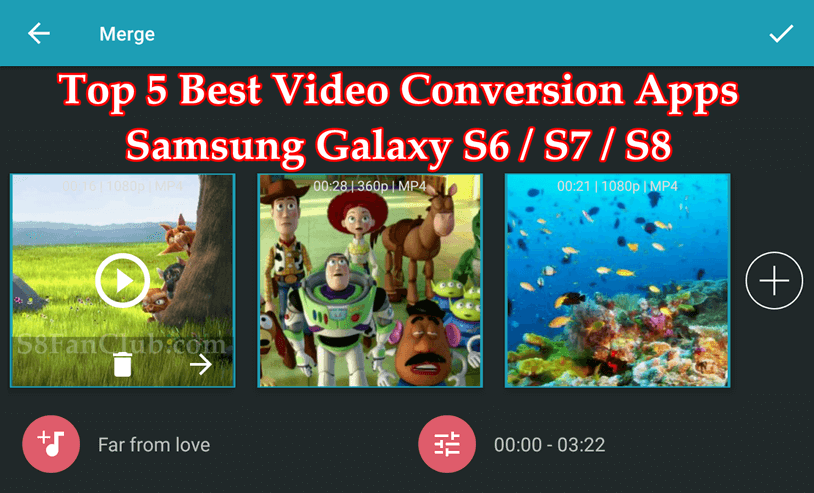 You can simply download these video converter tools on your Samsung Galaxy S10+ to keep your entire video collection in the similar format. Simply visit the Play Store link mentioned below and make your favorite videos playable! Also make sure to check out the Best Video Player Android Apps for Galaxy S6 / S7 / S8.
Top 5 Best Video Converter Apps for Samsung Galaxy S10+
1: Video Converter App for Galaxy S10+
Making the video converting job easy, the video converter is on our list having a number of features to offer you. This video converter allows you to switch the format of your video to any one you like including the HD video, HTML5 video, WMV, MKV, AVI, MP4 and much more. Not only this, the app includes the editing tools like cropping, trimming and other basic tools as well. Get this on your phone and enjoy your favorite format anytime you want.
2: AndroVid App for Galaxy S10+
The less of the video converter and more of a video editor, AndroVid is next on the list that can convert video into the format you want. Not only this, this app packs a lot of editing options as well including the video trimming, video reverse, video joining, video and audio mixing, slideshow making, frame grabbing, video rotation and much more. The app is handy and offers much more than a converter.
3: VidCompact App for Galaxy S10+
Next on the list is VidCompact that is the video converter and video compressor at the same time. The app is powerful to use and is completely free. With the competitive user interface and the fast performance, this app can convert your video to any format you like ranging from MP4 to AVI. Not only this, if you want to free the space on your device, the VidCompact can compress video clips of any size, cut and crop, trim and play them as well. Not only this, the app supports more than 200 languages and is really simple to use.
4: Video Format Factory App for Galaxy S10+
Next, we have got a very customizable video kit that can not only converts the videos but also can compress them, crop them and can reverse them too. You can choose from various options to convert your video files into. This one is a decent option and is completely free to try.
5: Video Converter App for Galaxy S10+
Last but certainly not the least, a Video converter is another decent tool designed to convert the video into any format you want. The app will take only two steps to convert your video file into your desired format including MKV, AVI, MPG etc. All you need is to select your video file and select the output format.
Video converter apps have made video converting lot easier than ever on any Android device including smartphones such as Galaxy S10+ and Android Tablets. All you need is to get the app and select your video format and video file. If you have any suggestions for video converting apps, let us know in the comments section below!