The two additions to the Samsung family have made its breakout in the market. You need not to wonder about which latest smartphones I am talking about. These are Samsung Galaxy S7 and S7 Edge. The rumors about both these models have conquered the internet a number of months ago and most of them proved to be accurate. However, there are few things that come not less than a surprise to the people when they tried these flagship smartphones. I have previously covered 8 Things which iPhone 6S can't do, but Galaxy S7 & Edge can! and Samsung Galaxy S7 & Edge vs. iPhone 6S. Go through these articles and you will find even more reasons to love your Samsung Galaxy S7 or Edge. 🙂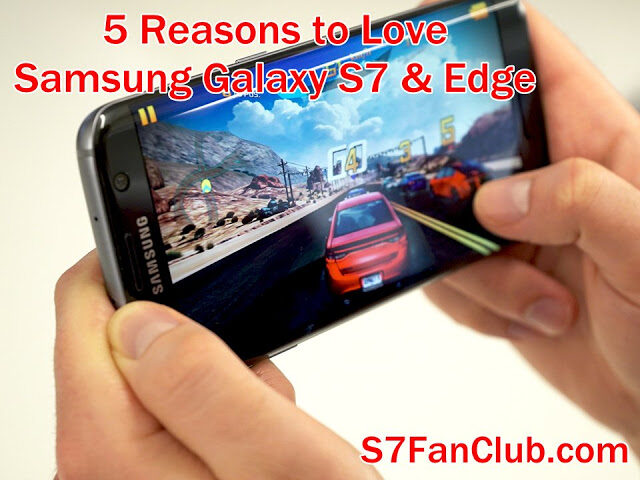 Why To Love Your Samsung Galaxy S7 / S7 Edge?
Well of all these features, I have compiled the number of things that made Galaxy S7 Edge and Galaxy S7 Love. You need to check out these features to Love Galaxy S7 of yours.
Dual Pixel Camera
Well, you would be well aware of the fact that Galaxy S7 and Edge are having lesser pixels as that of Galaxy S6 and S6 Edge. But this comes out as the good news for the Galaxy S7 and S7 Edge as megapixels aren't everything when it comes to digital cameras. The cameras on the Galaxy S7 and Edge are "first dual pixel sensor 12MP" smartphone cameras which requires a lot more introduction to the audience. Their camera can do more than the cameras of previous members of this family and can come up with the more amazing pictures of your own. Moreover, the aperture of the camera, its lens, and shutter speed are also worth noting in regards to the clearer and crisper images. That all means, getting finest images that you could ever imagine.
One Phone, Two Sizes
For some, size doesn't matter, but for many it does. Most of the people got confused in whether to buy mainstream Android smartphone or a separate phablet. For them, Samsung have launched S7 and Edge in two sizes. That is 5" S7 and the other 5.5" Edge with the number of unique features. It seems to be the following of the Apple's formula (iPhone /iPhone Plus) but this pair is surely the one best for them who are the nerds for Samsung phones.
Battery Life Rocks
Well there comes another comparison with the previous Samsung Galaxy S6 and both of these phones S7 and Edge have better and surely the significant larger batteries as compared to their Galaxy S6 counterparts. Galaxy S7 has 3,000 mAh battery that is almost 18 percent larger than Galaxy S6 while the S7 Edge has the whooping battery of 3600 mAh battery which is 20 percent larger than Samsung Galaxy S6 Edge+.
Edge's Enhanced Edge Screen
You might be thinking that this edge screen is not something that's new. But not surprisingly, Galaxy S7 Edge has some new edge features. The new edge screen offers the larger edge panel that lets you view two columns of the apps or contacts side by side. You can also place the certain app's widget on the edge screen to trigger functions. Well that's something interesting.
Faster Wireless Charging
With the tenacious battery life, the Samsung Galaxy Edge and S7 both come with the feature of wireless charging standards. These new phones power up faster at the fast charge accessory – that you can charge dead phone to about half capacity in 30 minutes. So the new phones can get charged twice as quickly as the ancestors of them.
Which of these features make you Love Galaxy S7 and Galaxy S7 Edge? Mention in the comments below.