As a matter of fact, we browse the internet on our mobile phones more than any other thing. In order to improve your web browsing experience on your brand new smartphone whether it is Samsung Galaxy S10 / S10 Plus or Note 10, here, we are going to cover the Top 10 best Galaxy S10 internet browser android apps. Previously we had covered Samsung Internet Browser, Top 5 Best Galaxy S10 Plus Internet Speed Test Apps, Top 5 Fast Samsung Galaxy 10 Web Browser Apps and Top 5 Best Galaxy S10 Edge Proxy / VPN Apps.
Let us take a look at the top 10 best internet browsers on the Google Play Store so far.
Top 10 Best Fastest Samsung Galaxy S10 Web Browser Android Apps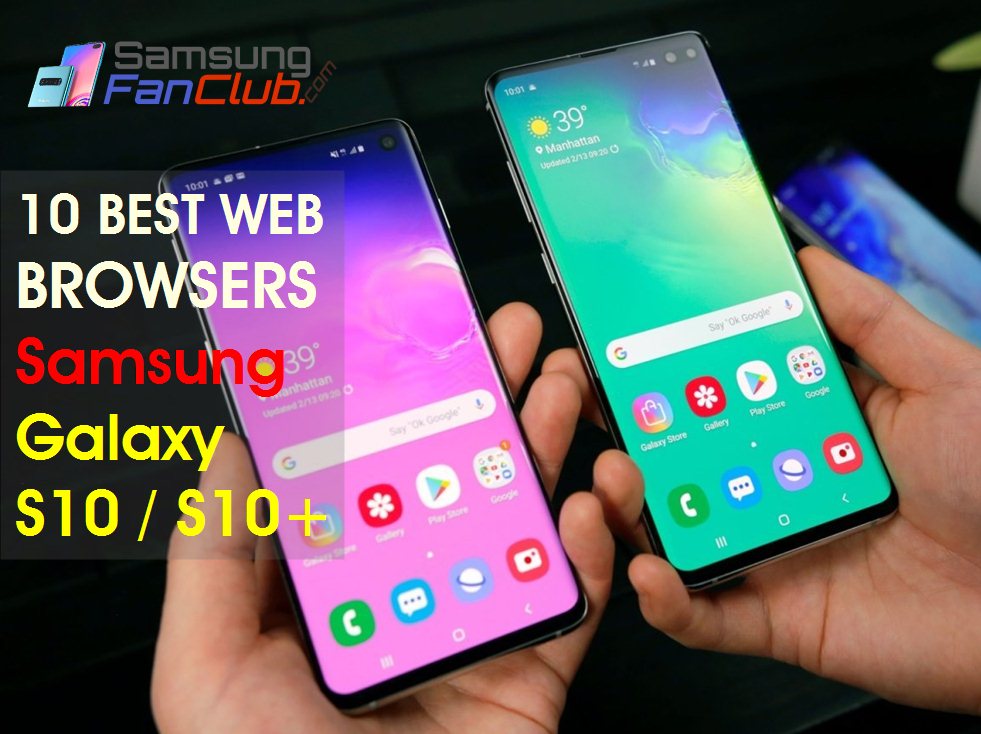 1: Firefox Browser Fast & Private
This comes to us as no surprise. Be its PC or your android, no doubt, Firefox provides the best features that one will need to enjoy his web browsing. This official Firefox internet browser app is fast, efficient and the smart personal thing that will allow the users to power their ultimate web experience. Besides the smooth run and great design, this browser offers the next level privacy to the users while surfing on the internet with Private Browsing window. Ads-on like ad blockers, password manager and more are also supported on the Firefox Browser.
2: Dolphin Browser
Although this one is a relatively new browser on the internet, but it has gained a lot more success than its competitors due to its seamless features. These features include theming, flash support, gesture controls, ad block and much more that is needed to take the web browsing experience of users to the next level.
3: Opera Mini
Opera offers a couple of browsers for the next level internet experience and they all are good. With the basic features like safe mobile browsing, fast performance and smooth run, the browser offers additional features as well like tracking your data usage, built-in ad blocker, video download support, multitasking, night mode and other great stuff that you surely don't want to miss. Do not forget to check out the Full Version of Opera Web Browser that also offers Native VPN Support.
4: Puffin Browser Pro
This browser might look simple, but it is no joke. With the regular internet features, this browser is wicked fast and thrilling speed to spend your worthy time productively. Along with that, this app features Adobe flash player support, cloud support, theatre mode, color theme for toolbar and auto-cleaning browsing activity regularly. Although these are some basic features, but still it is one of the better Android browsers.
5: UC Browser
Another obvious name on the list, that comes with tons of features packed. Yes, we are talking about the UC Browser that comes handy when you need to surf on your mobile devices. Along with the basics, this browser offers several modes like night mode, reading mode and small window mode, fast download, smooth user experience, intuitive UI, data saving, ad blocks and happenings around the world. It also offers the tips and trending topics to the users via notification so that they can keep pace with the world.
6: Google Chrome
Of course, the most popular Internet Browser on the Play Store. Many smartphones have this browser pre-installed and offer a variety of features that one needs. Along with the material design, syncing with Google Chrome on the desktop, unlimited browsing tabs and plenty of other features are packed inside this little application. So get it on your Samsung Galaxy devices and enjoy your browsing!
7: Samsung Internet Browser
One of the most interesting internet browsers on the list. We reviewed this one earlier and loved the way it offers an array of features while working smoothly on all Android devices. Besides the basics, this official Samsung Internet Browser offers advanced features like Amazon shopping, online shopping in general, 360-degree video support, reading mode and plug-ins as well. This browser comes pre-installed on the new Samsung devices, if not, you can get it from Play Store RN.
8: FlashFox Pro
FlashFox Pro is one of the newer browsers on the Play Store, still, it managed to capture a spot on our list due to its reasonable features and seamless design. Just like Puffin Pro, this browser also comes with the Adobe Flash Player support for quality videos, Amazon Prime, Netflix, live sports, movies, and tons of interactive content that you miss on your smartphones. Along with that, it also offers fast, secure and smooth performance, making it a complete browser for perfect internet browsing.
9: Free Adblocker Browser
With the official support from Adblock, this browser enables you to have a perfect, ad free web experience to the users. If you are annoyed with those video pop ups, banner ads, and automatic advertisements, then you need this internet browser that lets you enjoy the content that really matters to you, without wasting your precious time. Secure browsing and optimized battery usage are also counted among its best features.
10: Flynx
From InfiKen Labs, Flynx has come a long way since its inception as it hooded tons of useful features that make web browsing so much fun and exciting. The best and the unique feature of this app is that it works in a floating window as opposed to a full-screen mode. This allows quick web browsing o save your time. Other features include basics like night mode, user-friendly interface, and simple design.
What's your favorite Fast & Secure Android Internet Browser for Samsung or any other smartphone? Do let us know in the comments below!