Samsung Galaxy S7 and Galaxy S7 Edge are the latest Android Smartphone Flagships from Samsung and despite of many advantages over other phones. These devices are suffering with pink and green tint on AMOLED screens. We at S7 Fan Club are really sad to report this incident here. Samsung Galaxy S7 Edge costed us around $800 and its a flagship device from Samsung, its suffering with purple and green tint. There are different pink colored lines which do appear and disappear occasionally.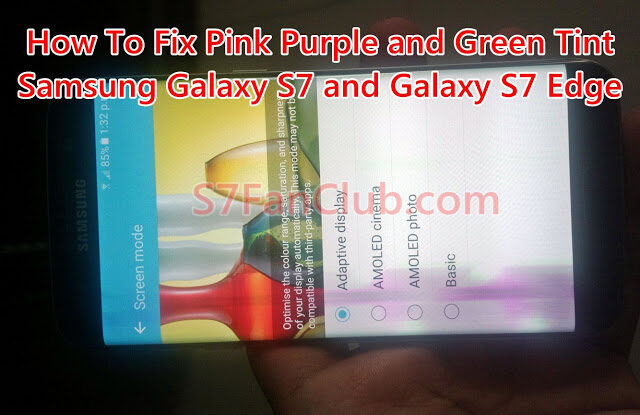 Fix For Samsung Galaxy S7 Edge Pink Purple Tint on Display Screen
Please note that I have kept this device with due care and never made it fell down on the floor. Today morning when I woke up, I was checking my important emails and Facebook social media content on Samsung Galaxy S7 Edge, suddenly pink lines started to appear on the screen randomly. My Galaxy S7 Edge felt very hot and those purple and green lines used to change their position with scrolling on the screen. Camera app on Galaxy S7 Edge also shows some weird patterns on the screen. If you have turned on Always on Display, it will turn into something greenish dots.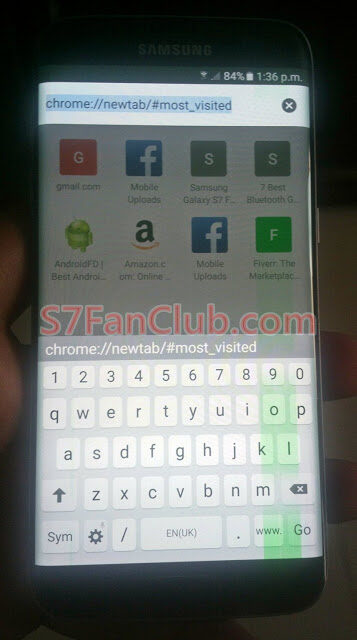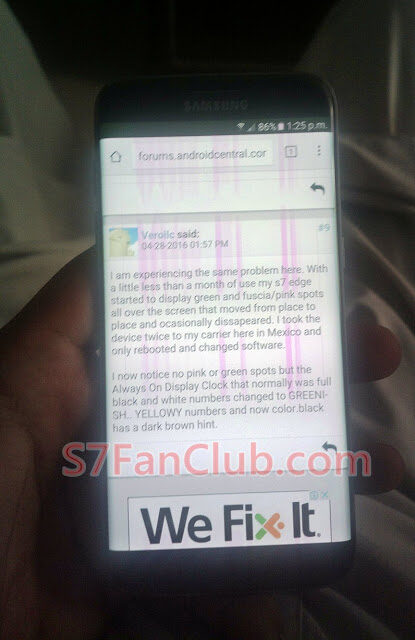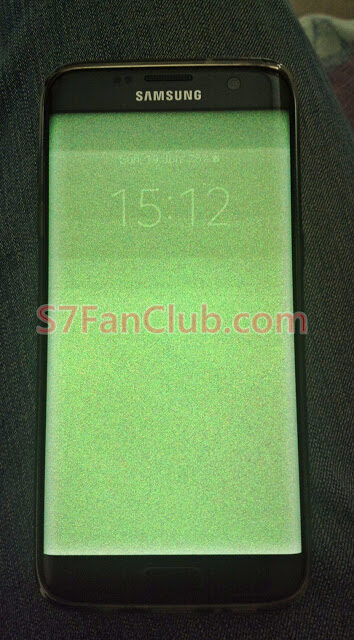 I instantly Googled for this issue and came to know that this issue was here since Samsung Galaxy S6 and Galaxy S6 Edge. They also faced the same pink and green tint. There's only a temporary fix for pink and green tint issue. From the following display settings on Galaxy S7 Edge, change the adaptive display or AMOLED cinema to AMOLED photo or basic mode. This will help to decrease the intensity of pink or green tint appearing on your screen.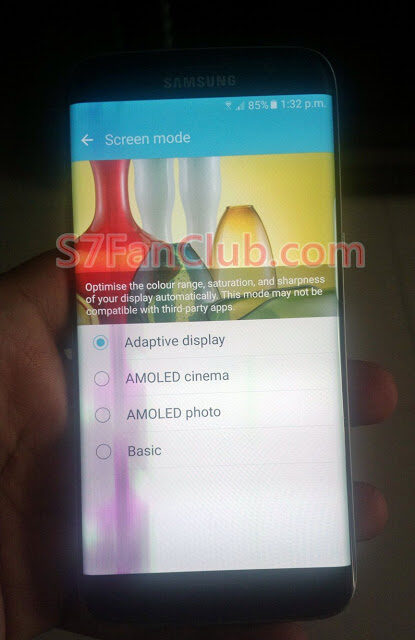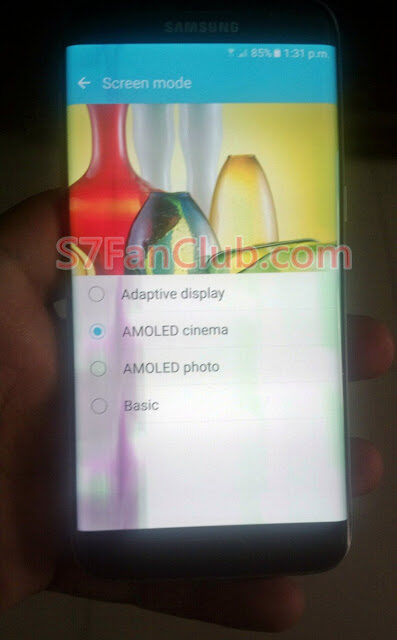 How To Fix Galaxy S7 Edge Pink and Green Tint?
Method 1:
Settings > Display > Screen Mode > Adaptive Display or AMOLED Cinema
Settings > Display > Screen Mode > AMOLED Photo or Basic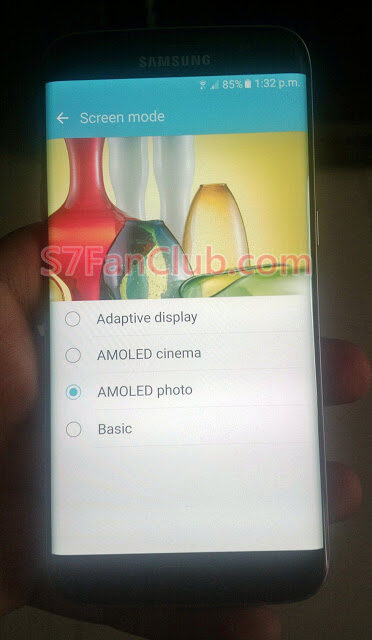 Method 2:
Increase your Samsung Galaxy S7 Edge's brightness level to 100% and uncheck the auto brightness adjustment. It will temporarily fix pink and green tint issue, as it will not display the burned AMOLED pink or green shade under full brightness intensity. Its not a complete fix though.
Complete Fix for Pink and Green Tint / Smudges on Samsung Galaxy S7 Edge
If you need to completely get rid of this pink and green smudges / tint issue on Galaxy S7 or Galaxy S7 Edge, you will need to contact Samsung or the vendor from where you have bought your device and claim the 1 year warranty to get your AMOLED screen completely replaced and fixed or in worst case replace your smartphone unit entirely (surely free of cost if your device is under warranty).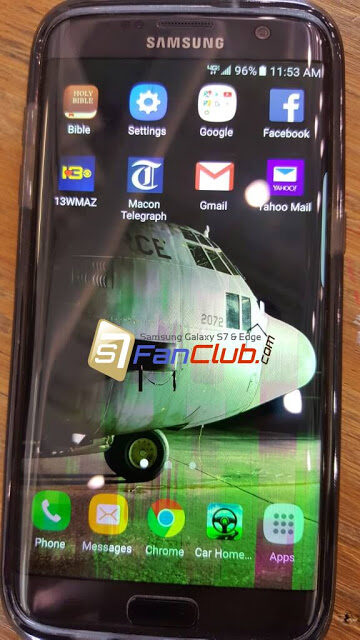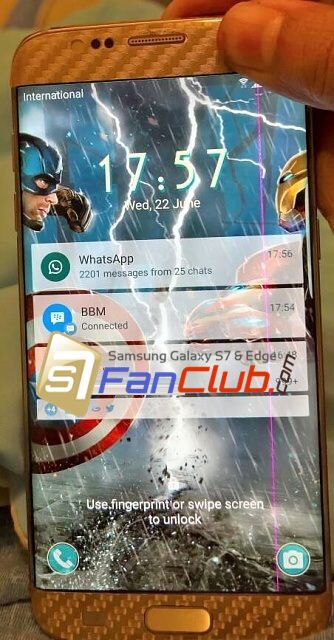 Message for Official Samsung Representatives:
If any of the Samsung representative is reading this, please convey this message to your higher management. I am being an avid Samsung user and fan of your devices got disappointed with this mess up. Had used Samsung Galaxy S3 for 3.5 years and never faced a single issue, now I have upgraded to Samsung Galaxy S7 Edge and used it for only two months and there is such a issue.
We really hope other users don't get disappointed with Samsung and Samsung must not use substandard quality of AMOLED displays. We all users of Samsung have had paid a premium price ($800) to purchase Samsung Galaxy S7 Edge and neglected all other famous brands such as Motorola, Huawei and Apple iPhone. Just because we have had trust on Samsung more than any other brand. Facing such an issue on a premium device suddenly is indeed very shocking for me and all other Samsung Fans.
If you know anyone who works at Samsung. Please do share this article with them. Or you can spread this message by sharing this article on social media. So that Samsung should pay attention to this issue and other users may not face such issues in future devices.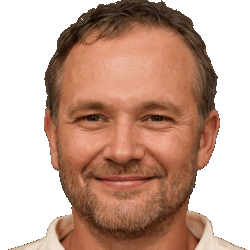 Latest posts by Frank Tyler
(see all)