Technology has finally taken us to the place where we don't need to be chained or glued to our laptops and desktops. Smartphones have eventually replaced the laptops and computers as most of the work can now be done simply using them. Even bloggers or WordPress Website Developers can blog directly from their Samsung Galaxy S10 or S8 Plus using the blogging and WordPress apps and can maintain their productivity without even relying on their computers. Also check out Best Social Media Apps for Samsung Galaxy S10 Plus.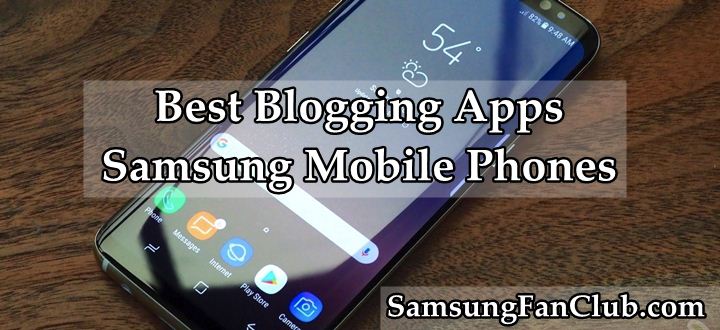 With a number of blogging apps available, you can blog without any hassle. That is the reason we have narrowed down the list and rounded up the best 5 blogging and WordPress apps for your Samsung Galaxy S7 Edge and S8 Plus.
1: WordPress
For the bloggers who have their WordPress accounts, they can blog handily using the WordPress app directly from their Samsung devices. The WordPress app has been developed to offer the bloggers a combination of convenience and features that they are used to. Just like the online WordPress, the app also allows the bloggers to create new posts, edit old ones and manage the whole blog or site without any hassle.
2: Blogger
Officially from Google, Blogger is another amazing blogging app to get on your Samsung Galaxy S7 Edge or S8 Plus. The app comes with no sign-up process, all you need is to enter your Google credentials and you are ready to blog and enjoy blogging. The App comes with an amazing list of features like adding posts, pictures to posts, labels and even location to your posts. Moreover, if you have multiple blogs, blogger allows you to switch between them even.
3: Feedly
Feedly is another great blogging app allowing the bloggers and people to read, learn and even share new trends around. The app can also offer the feature to track keywords, brands and companies as well for the proper SEO focused blogging. Not only this, the app is simple, fast and flexible and offers tons of blogging options that you don't want to miss.
4: Tumblr
Another microblogging platform allowing the blogging at hand is Tumblr which allows the bloggers to post, add images, texts, video links and even quotes to their tumblelog. The app also comes with several additional features like follow other interesting tumblelogs, saving drafts, queuing posts and manage blogs as well. If you want a feature-rich blogging platform, Tumblr is your way.
5: Ghost
Ghost is another simple, flexible, functional and fast blogging app allowing the users to be more productive. The app features simple yet very useful features including offline support, conflict heading, managing blogs, image and video uploads and much more. In a nutshell, it is a powerful blogging platform offering you to share your stories with the world.
Which blogging app do you use on your Samsung Galaxy S10, S10E, S10 Plus, S8 Plus, Note 8 or any other Samsung Android Smartphone? If you are looking for Best WordPress Website Development Services, go ahead with MT Web Sol.