Although there are a number of great games on Play Store, both free and paid, including Clash of Clans, Angry Birds etc. But recently these games have detected to lost their spark because of the Fidget Spinner craze. Well, the craze of the Fidget Spinner or Finger Spinner has not died yet but it has been taken to the next level with the use of technology.
Yes, the Fidget Spinner enthusiasts like to play with the craze on their phone. That is why the Fidget Spinner games are trending on the Play Store, a lot. So, if you are the one nerd for Fidget Spinner and want to enjoy what it looks like to play with your favorite toy on your Samsung Galaxy S7 / S8, you have come to the right place. We have rounded up 5 Best Fidget Spinner games from Play Store, exclusively just for you!
Best Fidget Spinner Games for Galaxy S7 / S8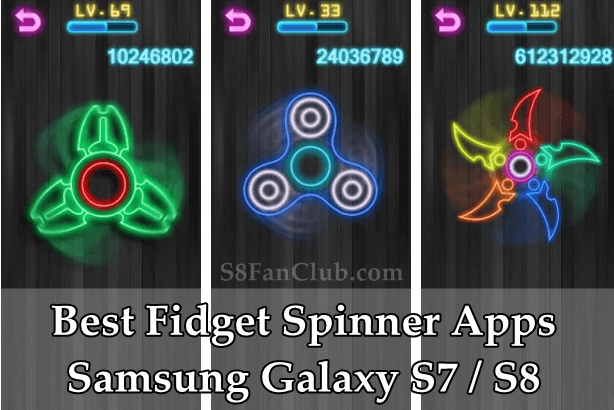 1: Fidget Spinner Super Hero App for Galaxy S7 / S8
Realize the power of Fidget Spinner with this amazing game with amazing story mode. The game is based on the Super Hero girl that has Fidget Spinner turning into a special weapon to save her city from the gangsters. The game is featured with the spinning thrill and offers lot more features including:
Fidget Spinner Tactics
Marvelous Fidget Spinner to Spin
Exciting missions to complete
Super hero male character added!
Download this game on your Samsung Galaxy S7 / S8 to get the ultimate thrill!
2: Fidget Spinner App for Galaxy S7 / S8
With this amazing Fidget Spinner game, you don't need to have your real time Fidget Spinner around. This simulator game lets you understand the new cool Fidget Spinner tricks and tactics. Not only this, other features of this game include:
Realistic Simulator
Authentic spinning physics
Dozens of Fidget Spinners to choose from
Amazing graphics
With the alluring user interface, the game is definitely worth your shot.
3: Fidget Spinner 3D App for Galaxy S7 / S8
With the 3D graphics and amazing physics, the next game on the list is Fidget Spinner 3D. The game is there to help you learn the Fidget Spinner tactics and help you relax at the same time. You have to swipe to make a bigger score. There are other features included in the game:
Over 30 types of Hand spinners
Realistic 3D graphics and animations
Cool tools to play with
4: Fidget Spinner App for Galaxy S7 / S8
Fidget Spinner is another best thing that you need to have. Set the best spin to win the game.
You can upgrade your hand spinner by unlocking them.
Compete with your friends and
beat the records for added fun
5: Fidget Hand Spinner App for Galaxy S7 / S8
Another perfect simulation game on the list. The game is easy to play and definitely cheaper than buying those real- time fidget spinners. The features included in this game include:
Realistic Fidget Spinners on the go
Colorful animations
Play with friends and beat their scores.
Get the stress out of you with this amazing Fidget Hand Spinner Game.
Spin these fidget spinners virtually on your Samsung Galaxy S7 / S8 Plus and enjoy!