Although using smartphones while driving is illegal, but it is a matter of fact that smartphones make great companions, especially, when they are Samsung Galaxy S10 models. You can use your smartphone as a GPS, music player or radio player, in order to make your driving pleasant and fun.
On the other hand, with these fun features, Samsung Galaxy S10 brings the unfortunate fact of a bad battery and can spoil your fun within a few minutes. However, this bad battery thing should not be your issue as car chargers are in the game that can allow you to do more from your phone while driving.
Top 5 Best Car Charger Accessories for Samsung Galaxy S10
So, here we have rounded Top 5 Best Car Charger Accessories for Samsung Galaxy S10+ that you can buy from Amazon and turn your boring driving into fun.
Please note that we have covered the best original & fast car chargers only, you should have USB Type C cable, in order to use them with Galaxy S10+. If you don't have a extra USB Type-C Cable for your Car, you can check out the list of Best USB Type-C Cables for Samsung Galaxy S10+.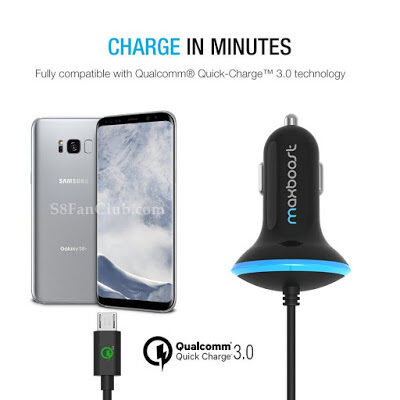 With the Qualcomm's Quick Charge 3.0 technology, Maxboost Dual Output Charger is topping the list of the top 5 best car charger accessories for Galaxy S10. Besides offering the top notch charging technology, this Maxboost charger offers a great look, external soft glow LED ring and wide compatibility. Not only this, it is light in weight, portable and can fit into any compact socket space as well.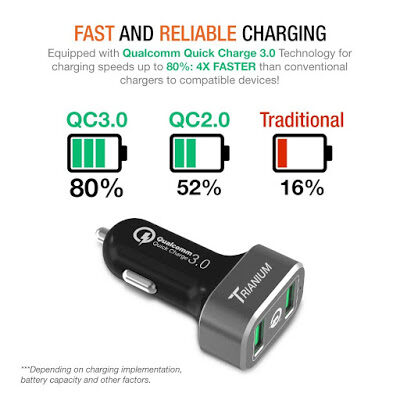 Next, on the list comes Trianium Dual USB Smart Charger that features the same Qualcomm's QuickCharge 3.0 technology for fast charging Samsung Galaxy S10. It offers two ports providing the power of up to 18W, and blue LED indicator. It is light in weight and extremely portable, that all makes it go second on our list.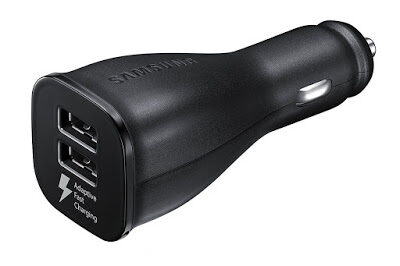 Featuring next on the list is Samsung Fast Charge Dual Car Charger, which is dual-port, light in weight, sleek in design car charger allowing the users to charge their phone from 0 % to 50 % in just 30 minutes. Moreover, it offers wide compatibility, making it useful for many other devices as well.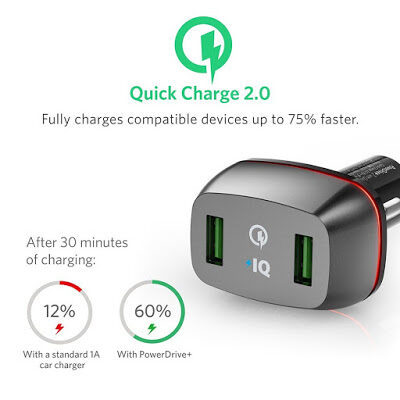 Being the well-known brand in providing accessories for the smartphones, Anker's car charger is next on our list. The PowerDrive+ charger features the most advanced charging technology along with 75% faster charging than the regular other car chargers. Besides this, it offers the premium design, with 18-month warranty and user-friendly customer service.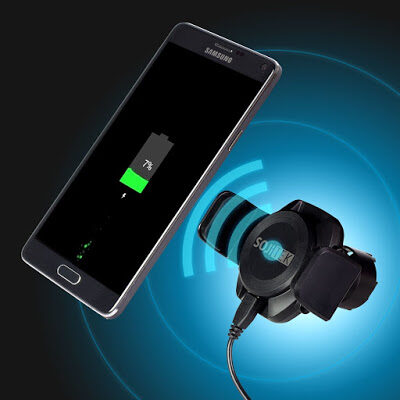 Want something advanced for your advanced technology Samsung Galaxy S10? If so, Sojitek Wireless Qi Standard Charger is designed for you. The charger offers quick lock and release mounting system that can perfectly fit in your car's vent. It also offers a microSD USB cable that you can also use for wired charging as well.
These are our top picks for your Galaxy S10+ car charging facility. Check them out on Amazon and do mention which car charger is working best for you?