Smartphones hold the amazing power of packing some incredible calculating and mathematical tools in the form of apps. Such right apps can lessen your headache of calculating and dealing with complex problems in the everyday life.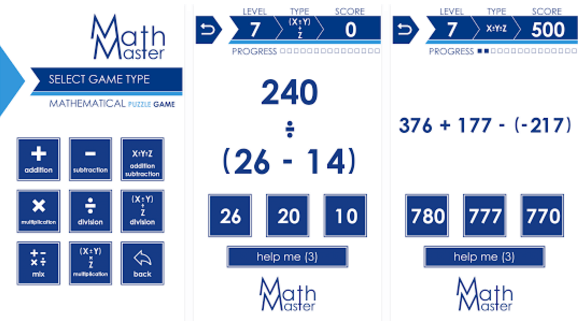 Top 5 Best Galaxy S7 Cool Math Games Download
So, if you are looking for the great calculation and Math games for your Galaxy S7 Edge / S8 Plus, check out our list of the Top 5 Cool Math Games below:
1: Math Games, Mathematics for Samsung Galaxy S7 Edge / S8 Plus
If you find yourself a Math nerd, then you need to have this game on your Galaxy S7 to test your mind, skill and speed and fight with the time. The game is simply based on the cognitive physiology that helps you to practice different math skills and learn effectively. So the game offers you with:
Addition, Subtraction, Multiplication and division operations
Exponential problems
Multiplication tables
2 games with 16 different types of mathematical tasks
Train, play and have fun!
2: Mental Math Games for Samsung Galaxy S7 Edge / S8 Plus
Here is another set of amazing math games that you can play and test your mental skills. The game offers
learning, training
Unique option of listening math problems and answering them by voice.
Moreover, its online multiplayer feature also allows you to play with your friends and other random players all across the globe.
The app is useful for all ages.
3: Math Master for Samsung Galaxy S7 Edge / S8 Plus
Next on the list of cool math games is Math Master that is really an interesting game to play. The game offers the player with lots of mathematical problems with lots of features including:
Addition, subtraction, multiplication and division examples
MIX mode examples included
Over 150 levels
Google Play achievements
Friendly user interface
Train your brain and improve your math skills.
4: Math Workout for Samsung Galaxy S7 Edge / S8 Plus
Math Workout is a set of daily brainstorming game that is designed specifically to enhance the mental arithmetic of its players. The game offers some very amazing features that include:
Number of playing modes such as The Brain Cruncher, I'm feeling Clever, Mental Math Master, Times Table Master and more.
Addition and Subtraction, Multiplication and Division modes are also a plus of this game.
The game also allows the users to compete with the world
The game helps you to keep your brain sharp, so don't miss this one!
5: Mental Arithmetic Math Workout for Samsung Galaxy S7 Edge / S8 Plus
Last but certainly not the least one, Mental Arithmetic Math Workout game is also worth trying. The game offers mental calculations with different playing modes based on level of complexity. Moreover, the game has lot to offer:
Online multi-player
World online leaderboards
Multiple difficulty levels including: Easy, Medium, Hard
Different types of mathematical tests
Statistics of all tests and the progress of player.
Review your math skills and conquer the world!
Have fun with these cool math games for Samsung Galaxy S7 Edge & Galaxy S8 / S8 Plus and do comment your favorite one!